Process
The process of conception to delivery of a project. Exploring and demonstrating concept ideas, design processes and practical application of a thematic brief. While demonstrating construction techniques, practical applications, collaborative involvement, research and community engagement. Through to installation process, groundworks collaborations to completion of a project.
Case Study: With Passing Ships
In May
"…Full of sweet books; and miles of sea, 
With passing ships, in front of me;…"
W H Davies
With Passing Ships - Newport City Council's Pillgwenlly Regeneration Framework  commission supported by the Welsh European Funding Body. Projects aim - highlight the local heritage and culture of Pill while supporting the sustainability of Newport's local industries, businesses and art practitioners through collaborations, construction processes, sub commissions and materials.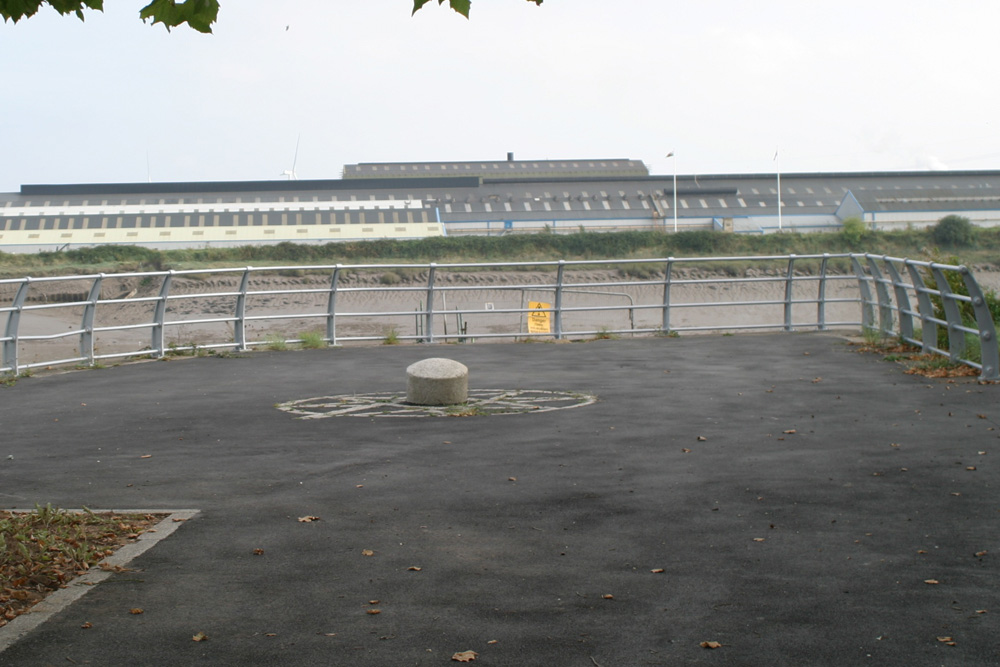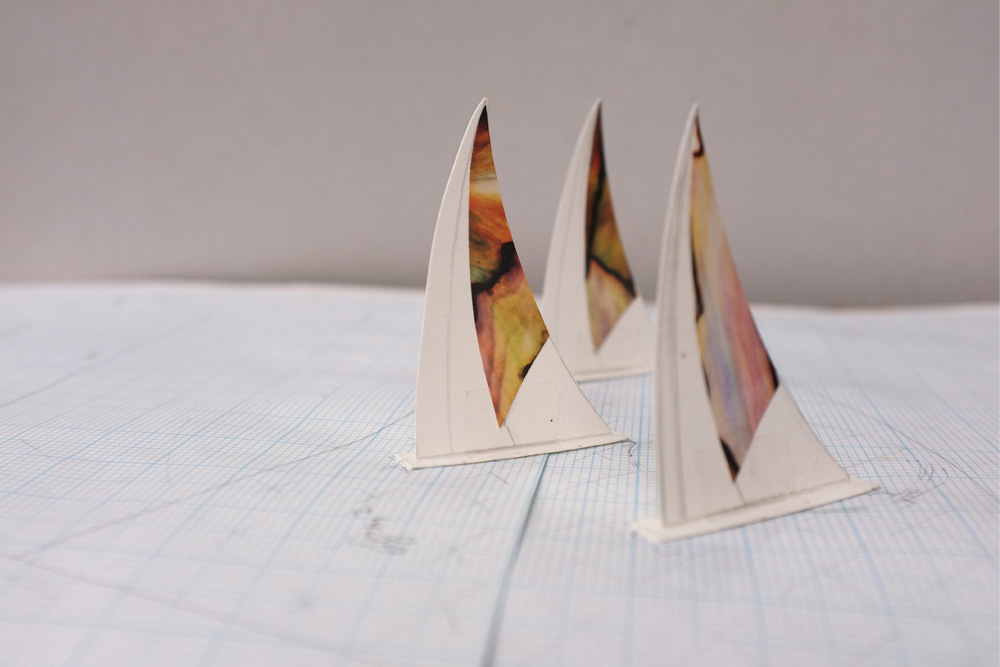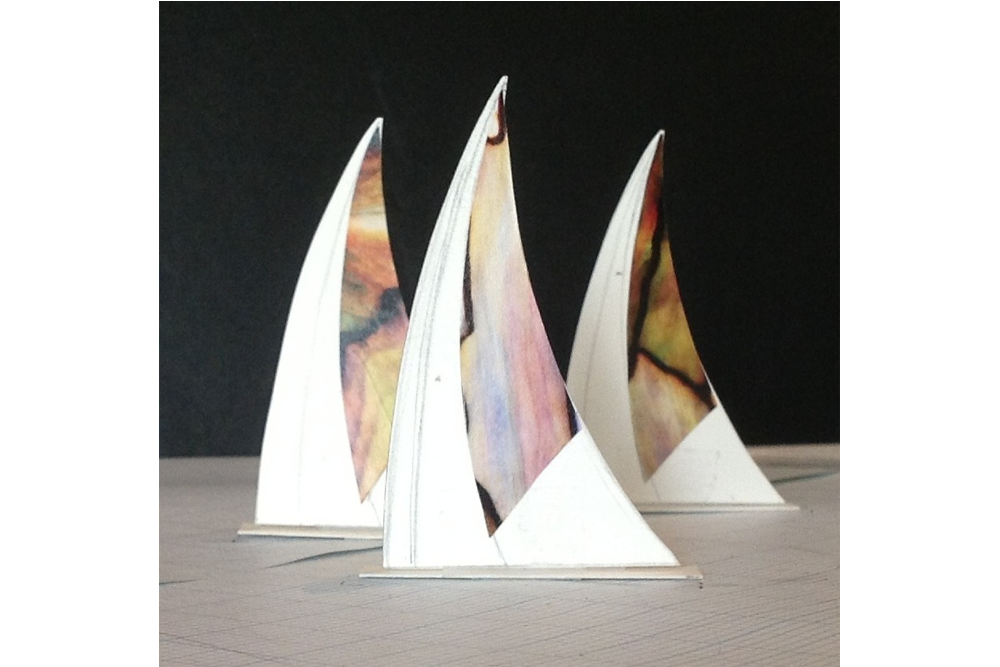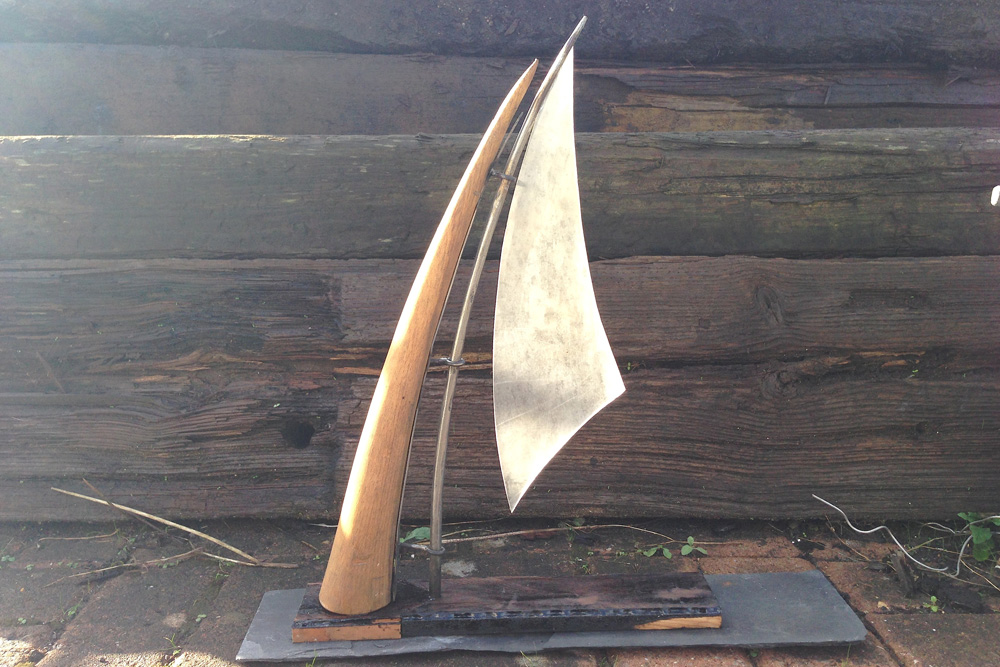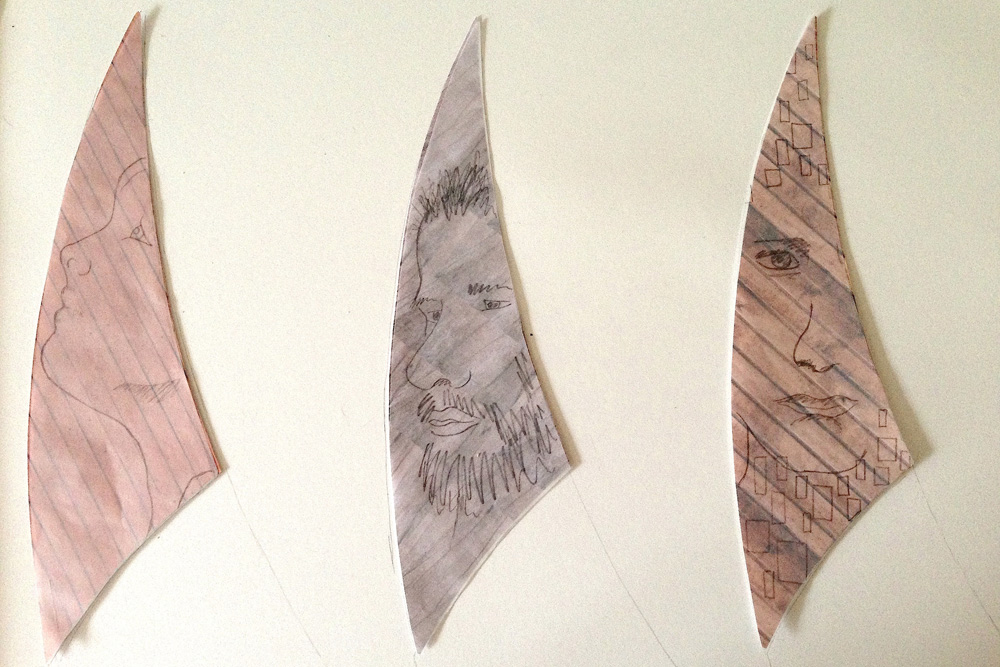 1. Through the initial meetings with the Pill Regeneration team a collaborative design process with artisan blacksmith Nick Jones began and the concept of schooner ships sailing the River Usk was born. Inspired by WH Davies' poem 'In May' three sails were to depict three eras of Pills history while highlighting the industries and processes through material and construction techniques of Newport's steel men and dockers who forged the foundations upon which the town's fortunes grew. The sails were to be adorned with images and materials found with in Pill, encased in clear cast polyurethane resin, a hard wearing, durable material for exterior use.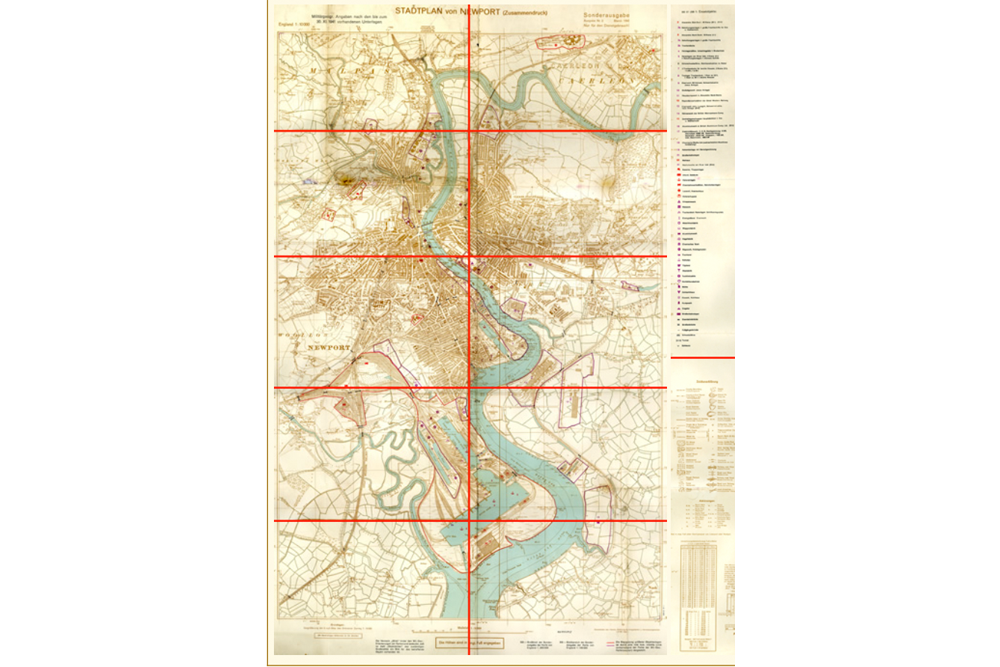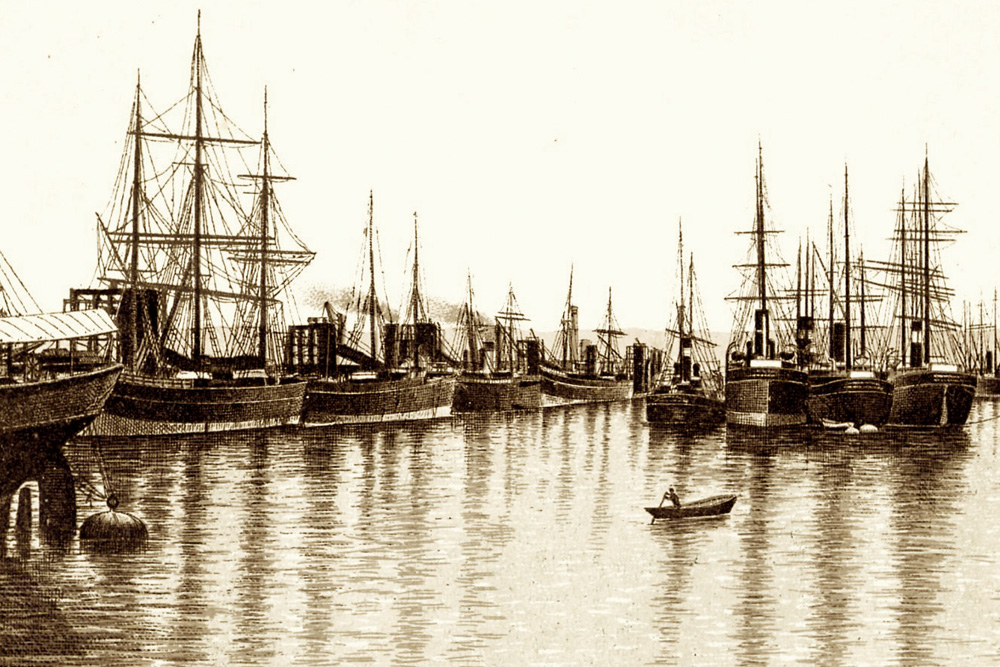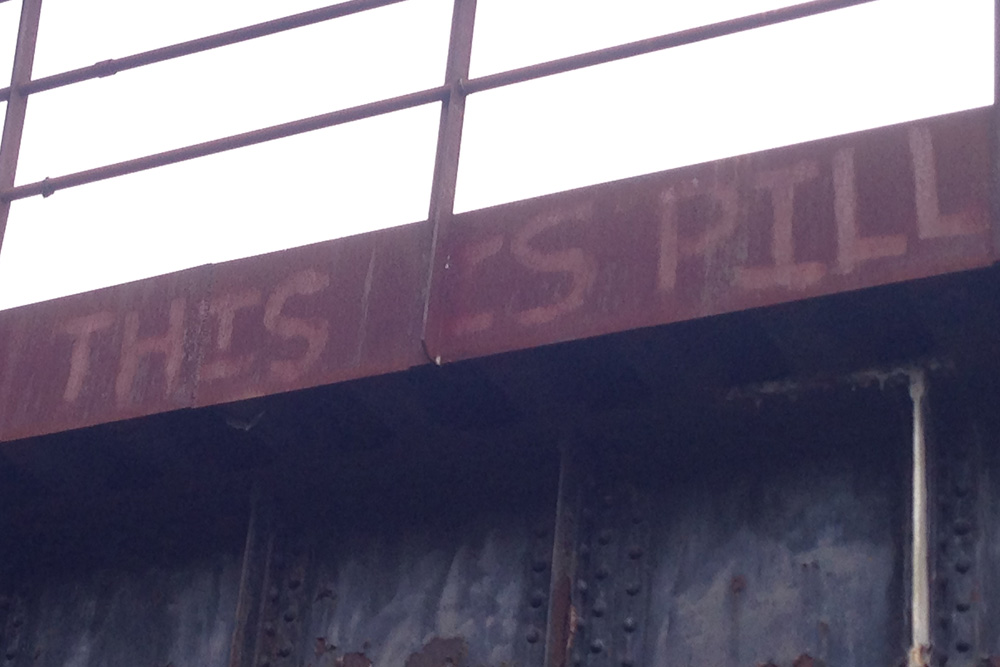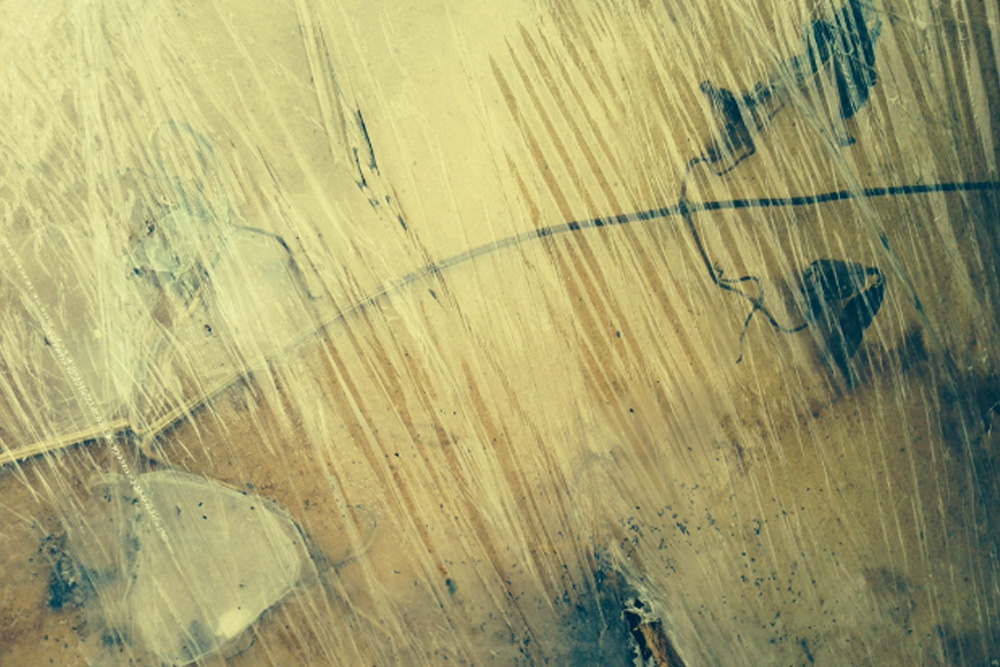 2. Pillgwenlly's geographic location in world trade, industrial heritage and contemporary community formed initial study and exploration . ABP Ports Association and many dockland businesses allowed access to photograph and study their archives. Newport Museum and local residents aided my research with photographs and stories.
Each sail adorned with an iconic portrait representing a particular stage of Pillgwenlly's development. The mosaic of information and stories entwined with the area's heritage and legacies slowly unravel to expose the communal foundation upon which Pill is built and continues to grow.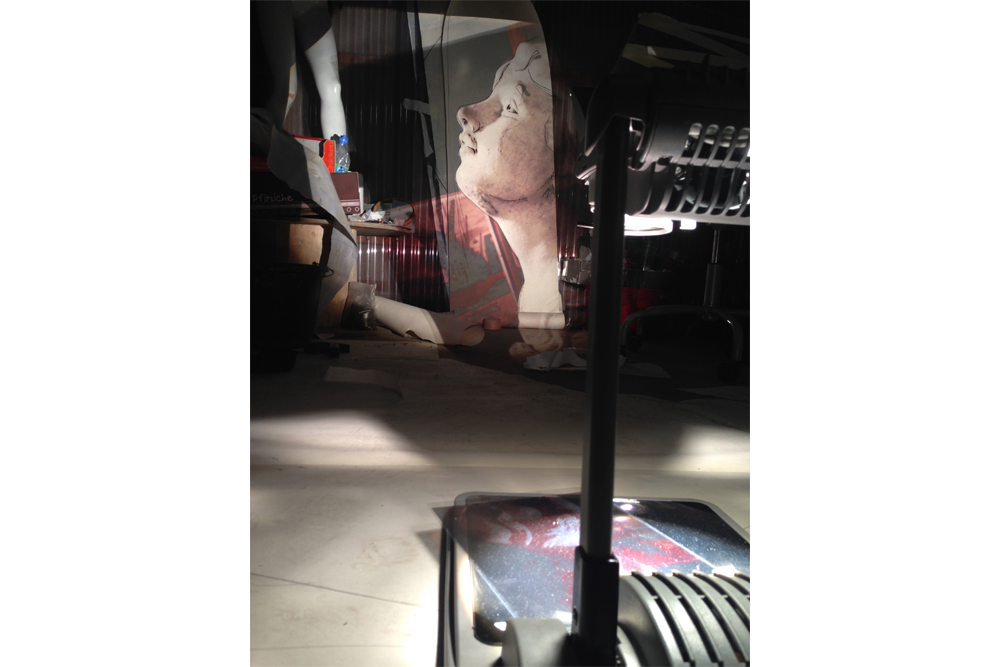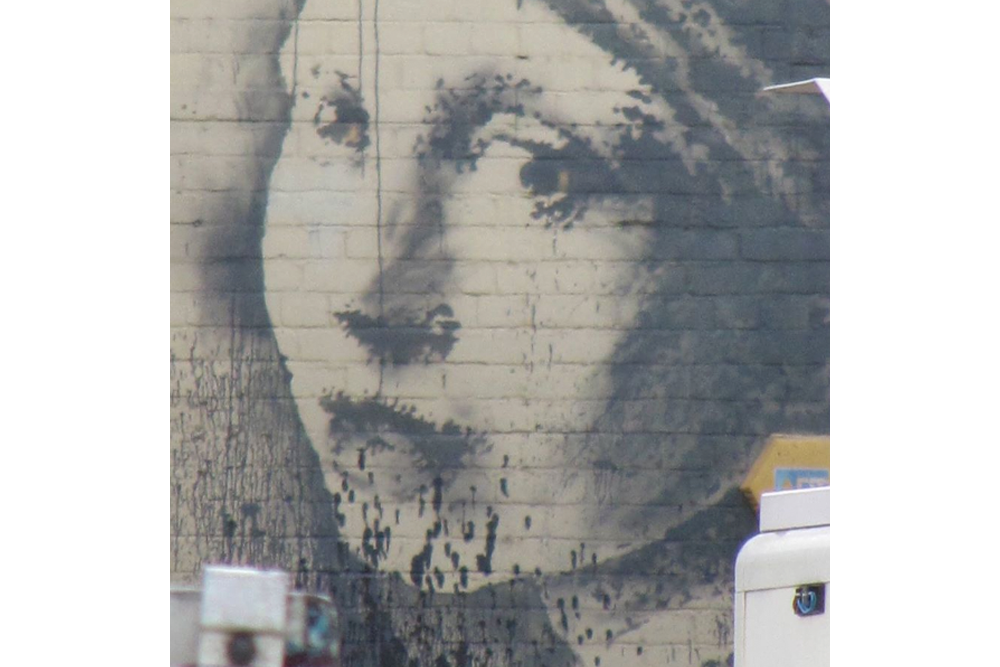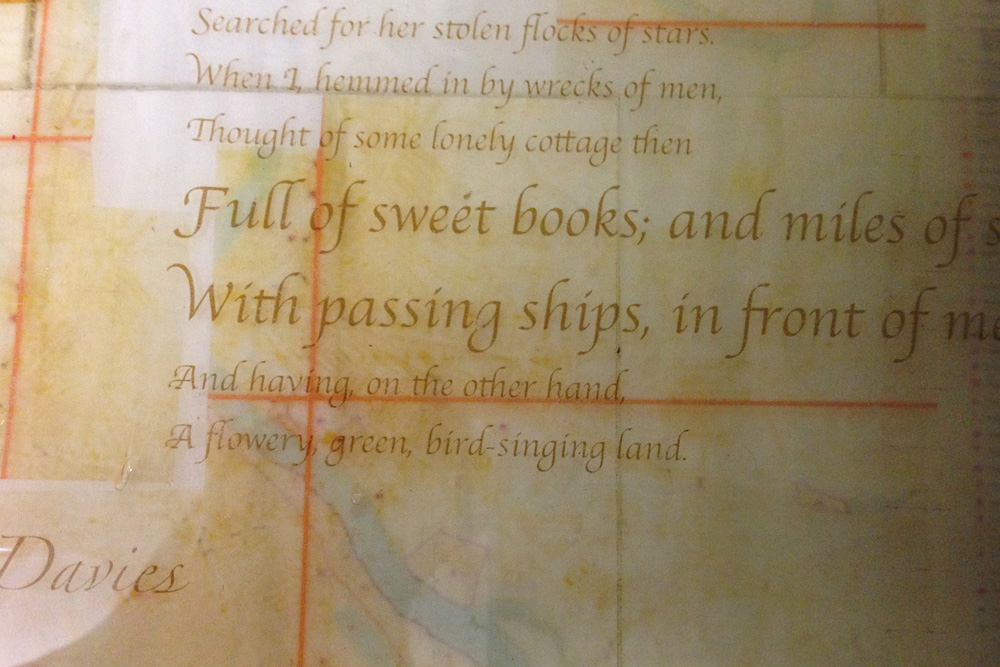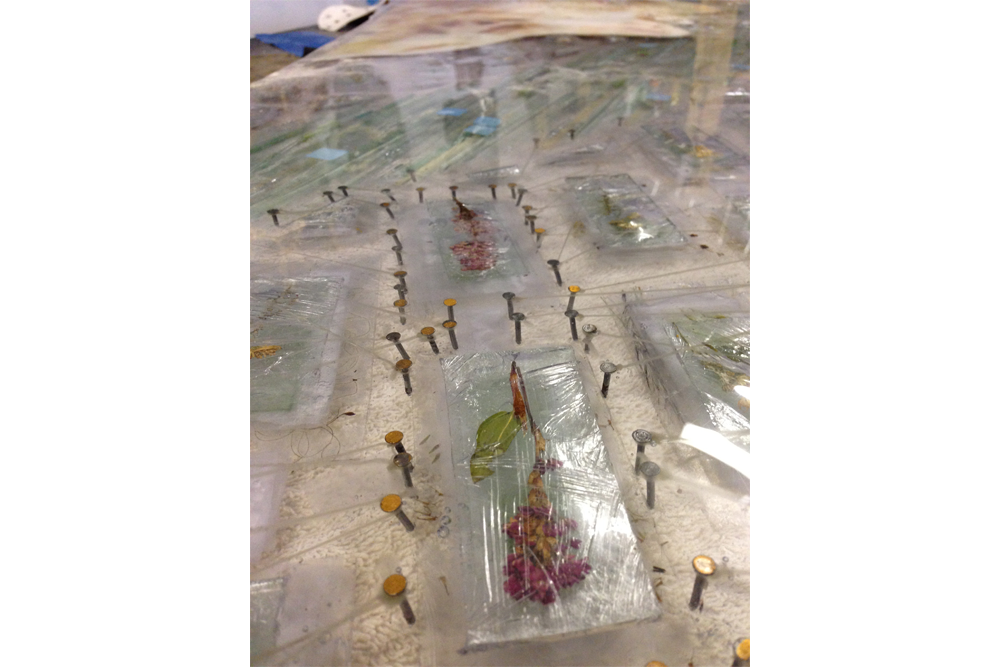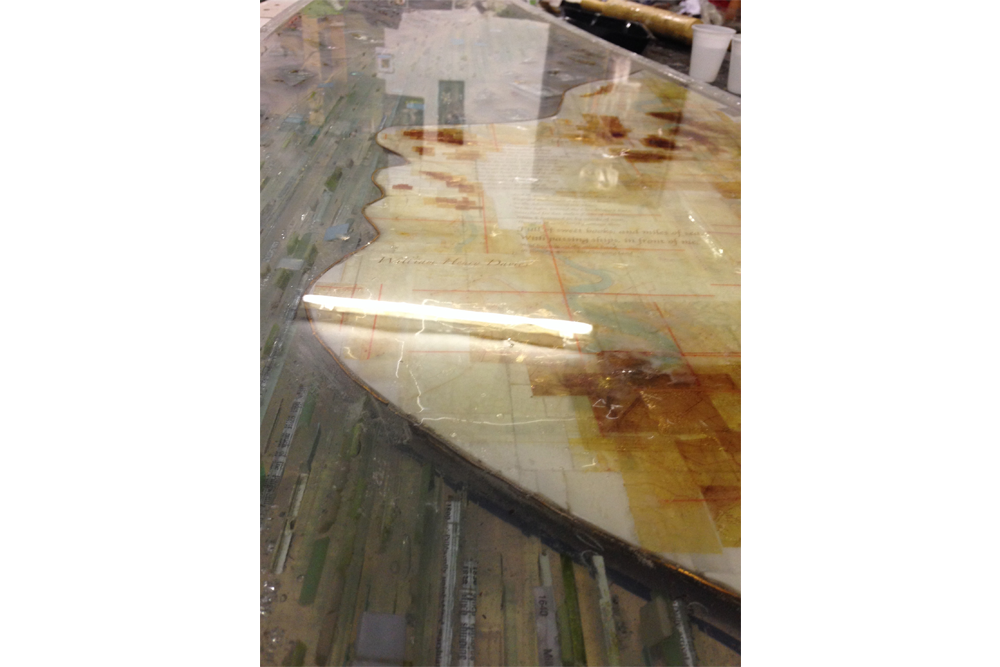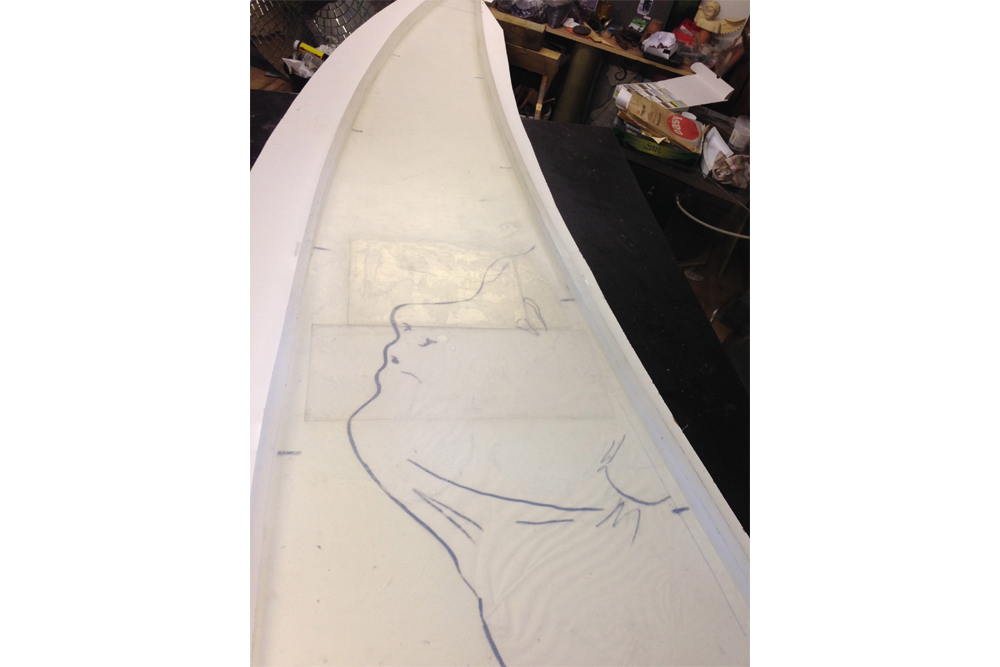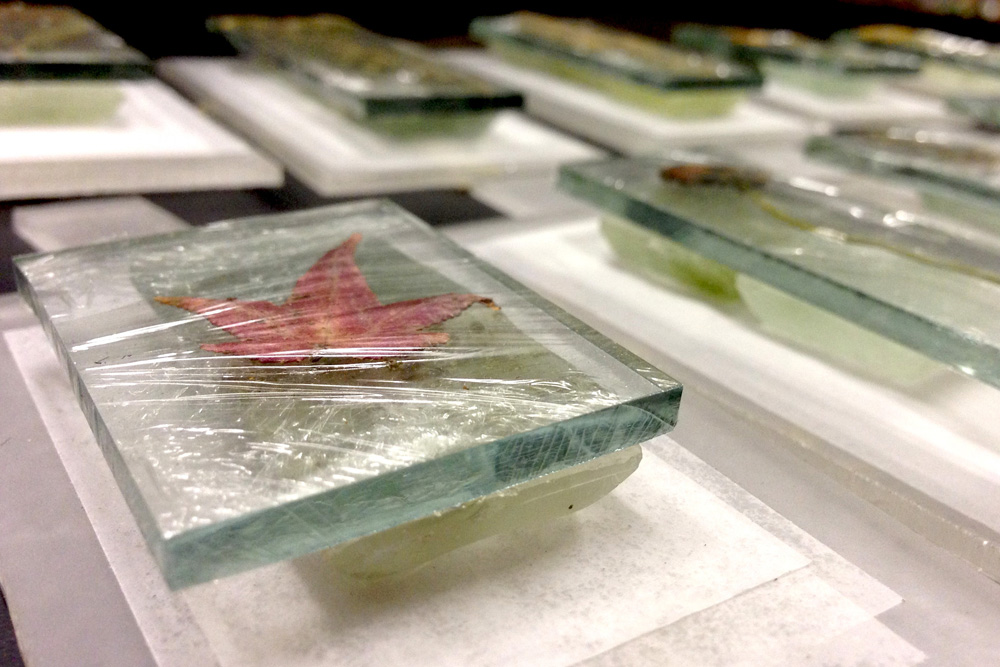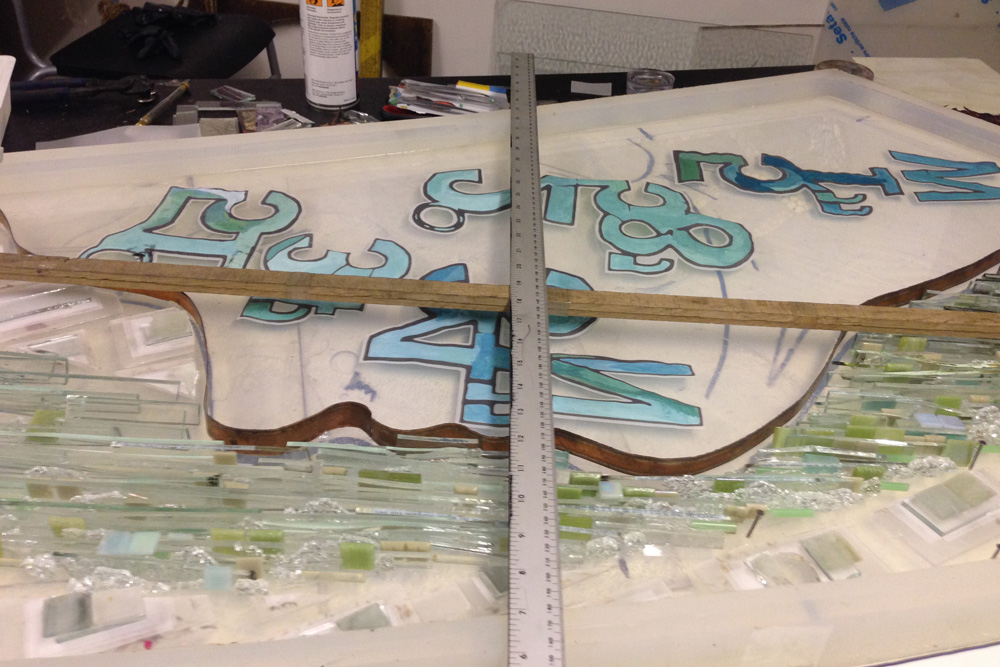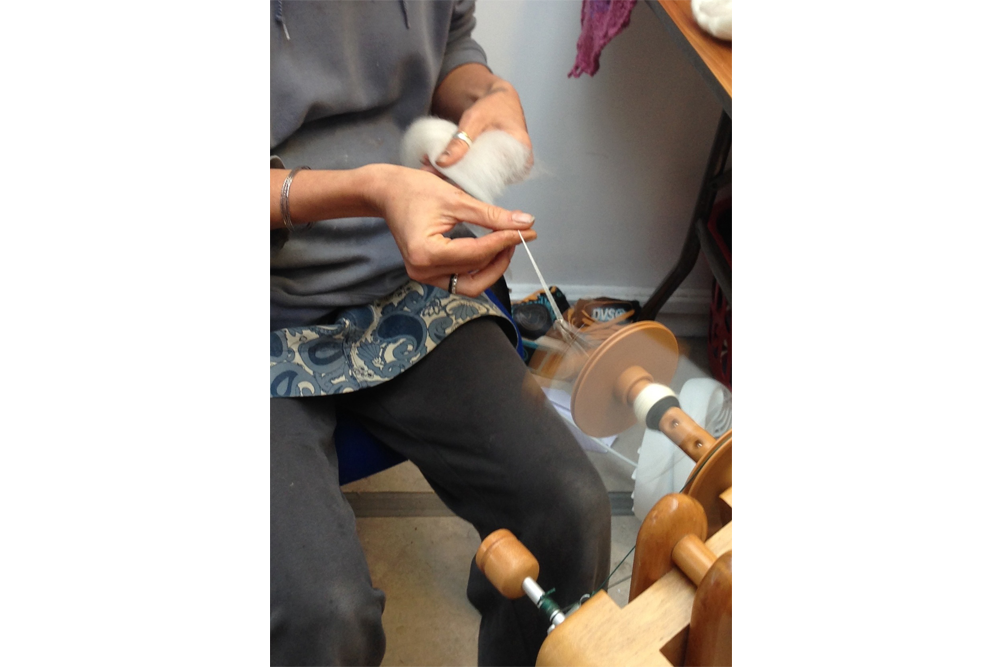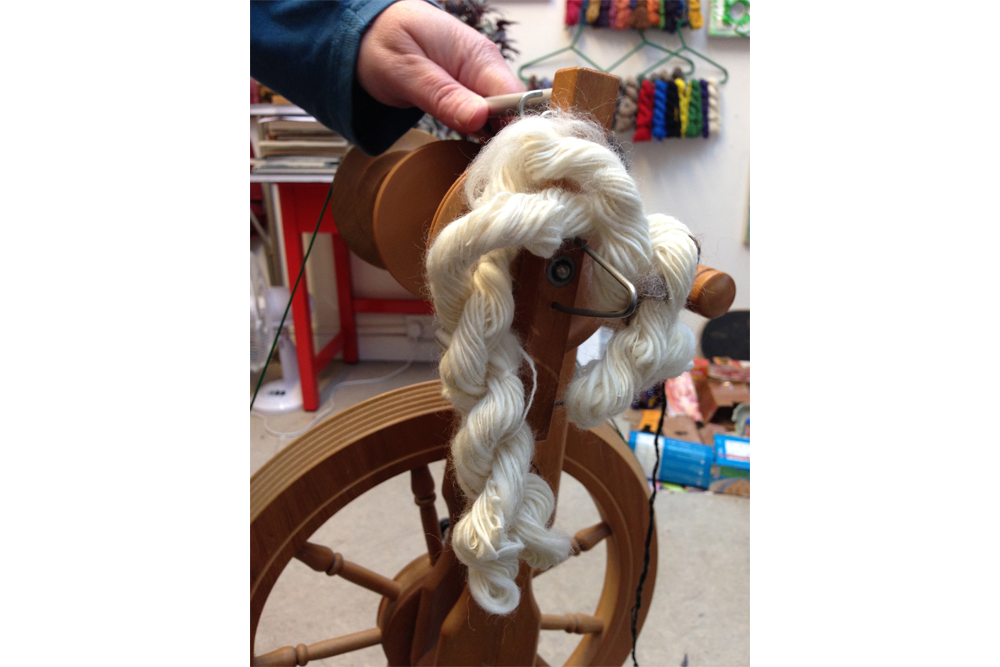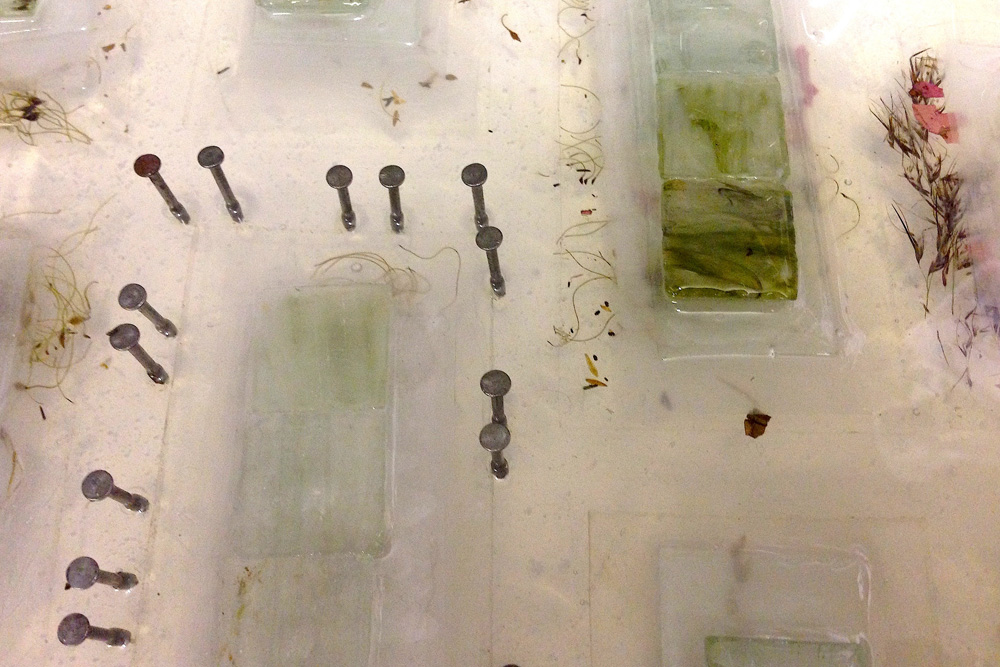 3.'The Land of Opportunity' was inspired by the ancient stories of the Usk River, depicted through the feminine image of a figurehead. Layers of glass, flowers and hand spun wool bring reminders to an aerial image of the two docks that from the landscape and old trade materials. The assemblage design demonstrates the connectivity and growth that spread into Pill during during this period. News articles incorporated into the river tell of fortune, hope and despair. While the figurehead's detail is created from maps of Newport throughout the ages. Sub commissioned geographic coordinates painted by Steven George Jones, leaves and faces of Newport's residents and historial individuals adorn the reverse side. A process of assemblage that was challenging and difficult to execute.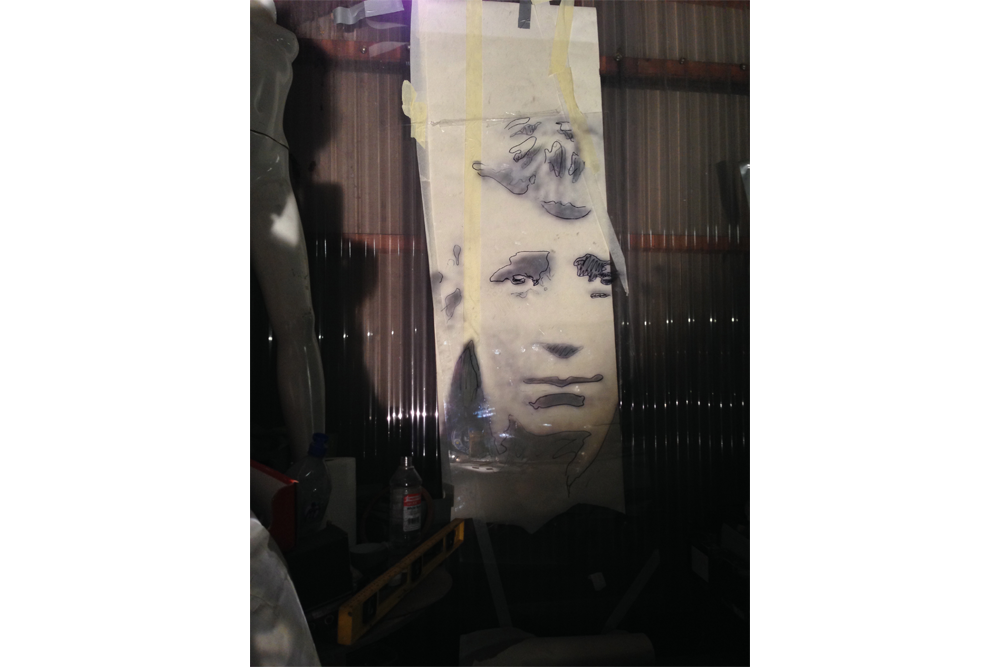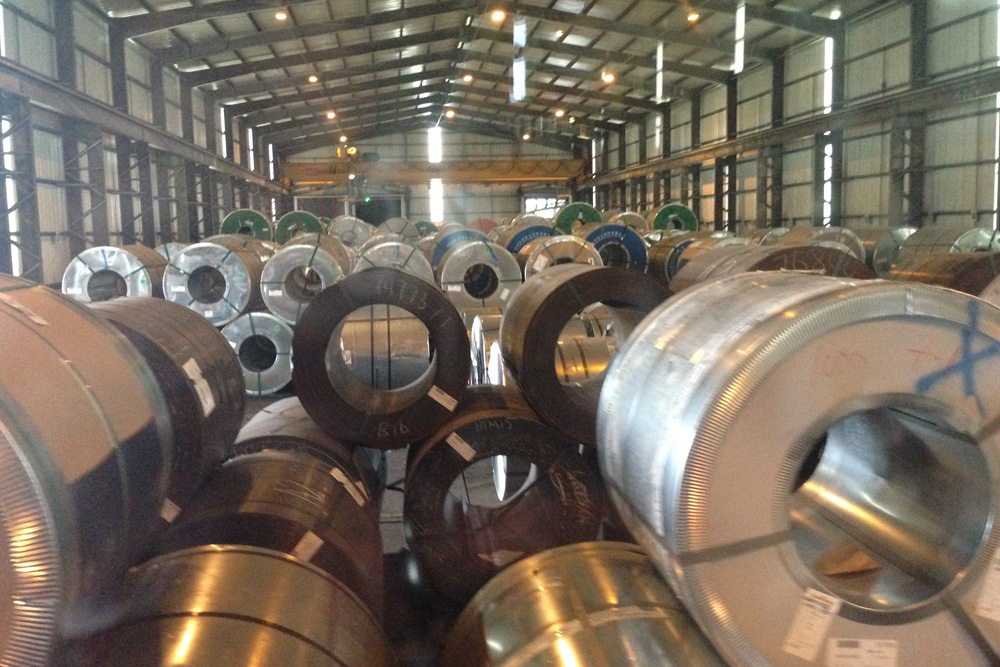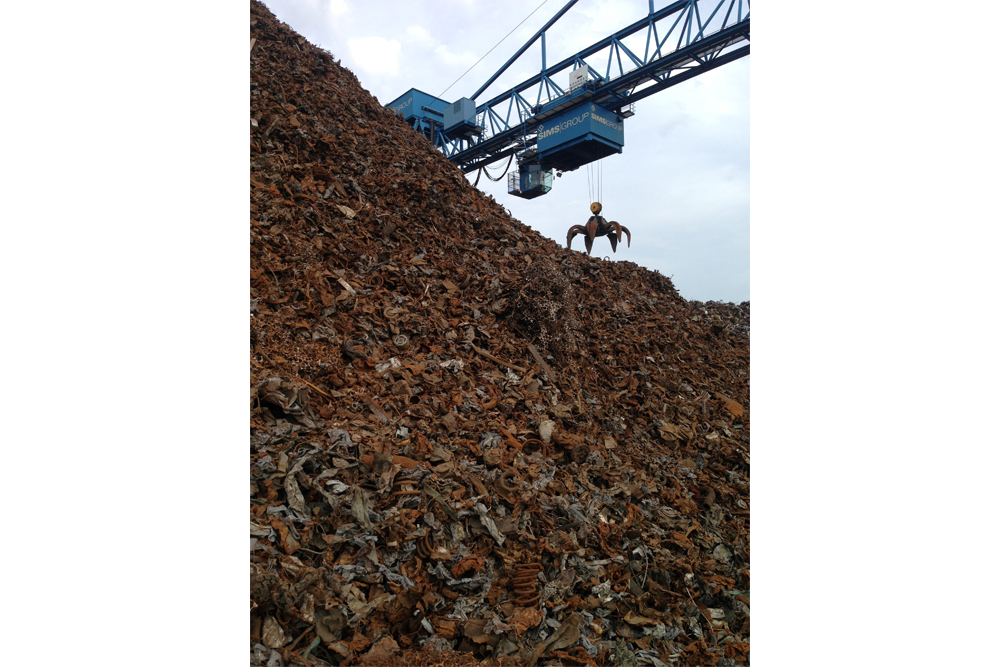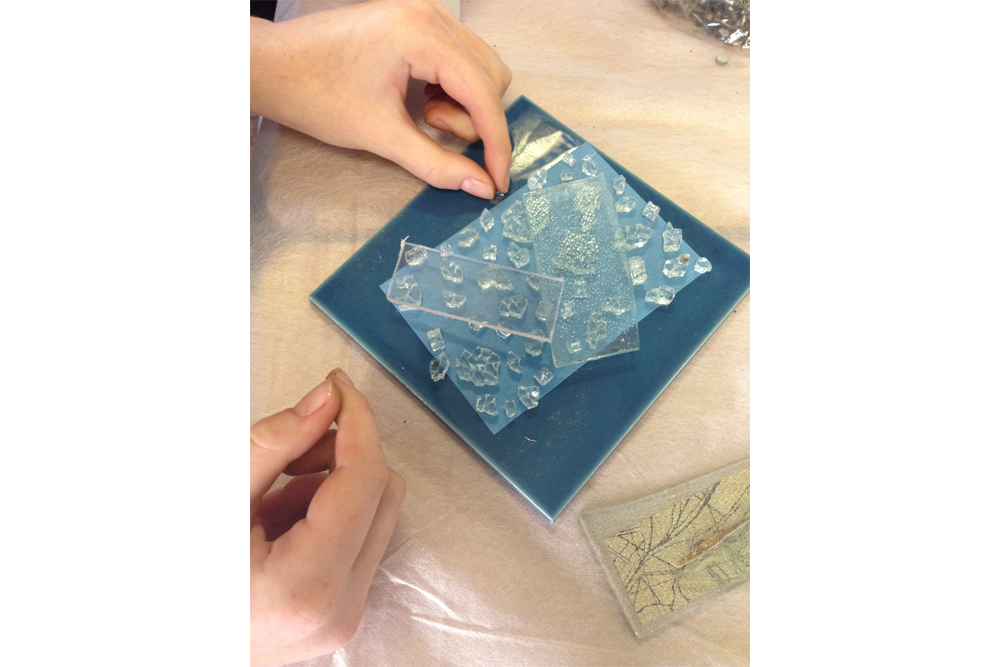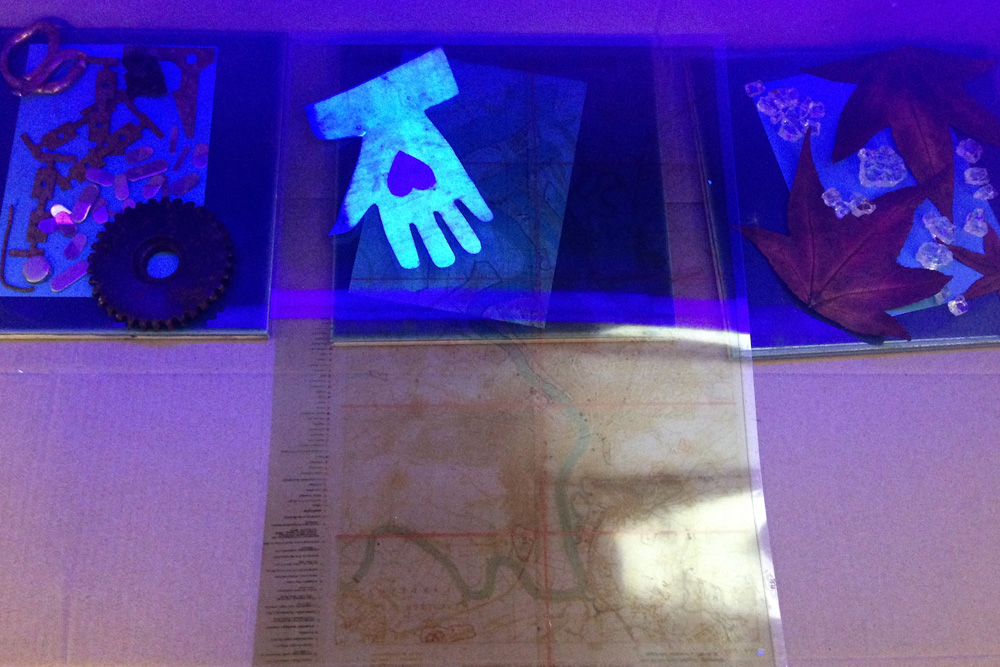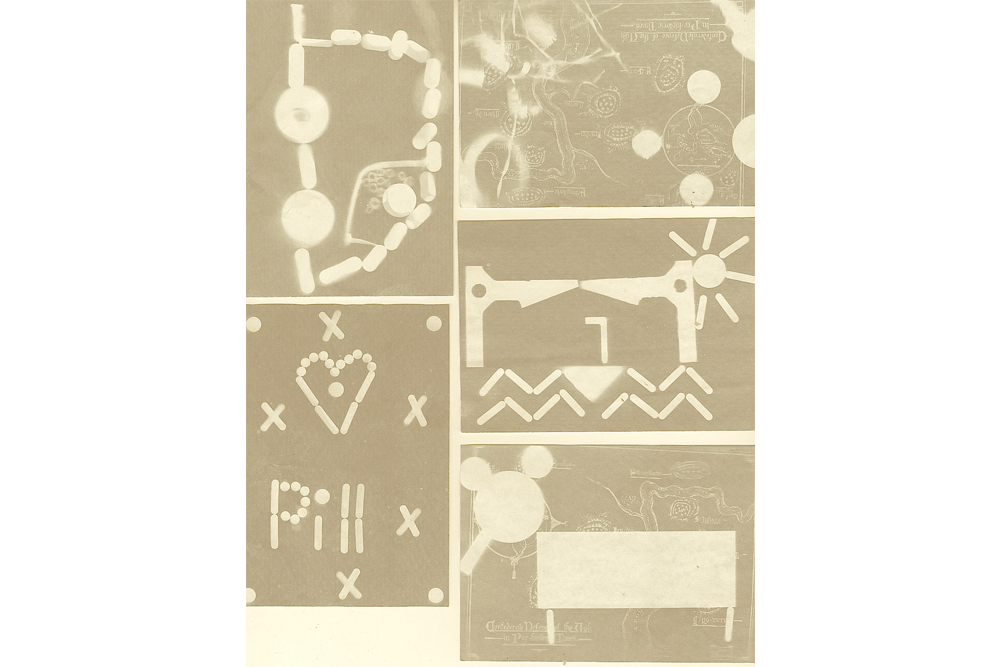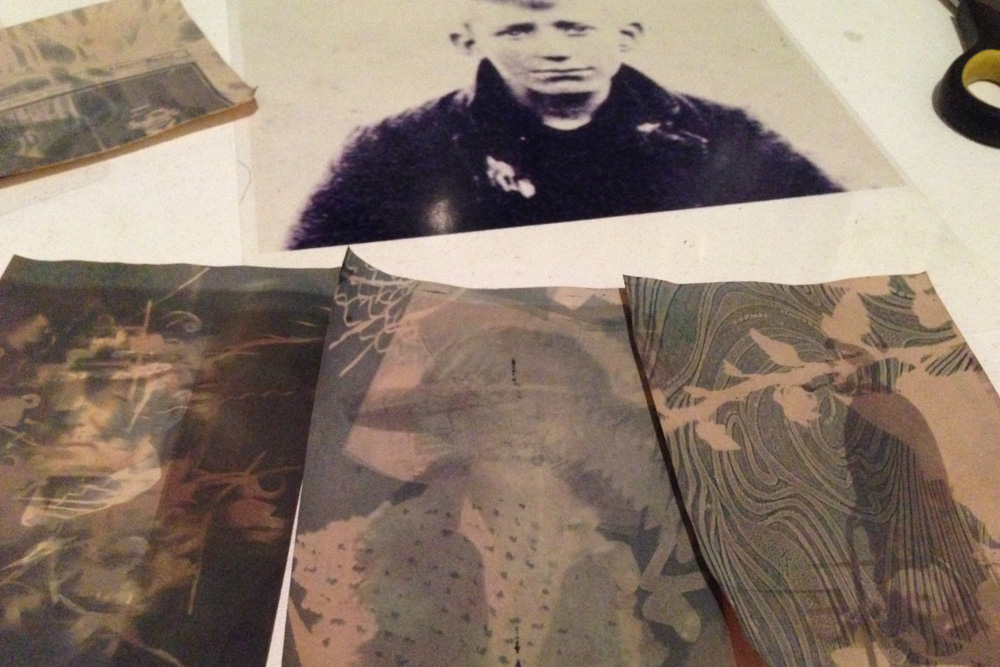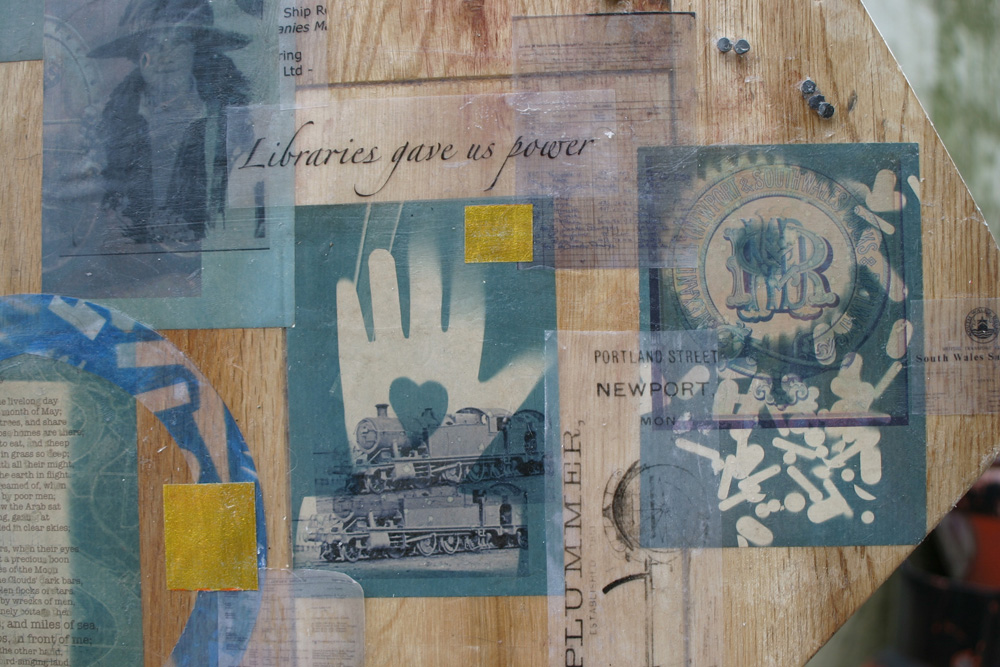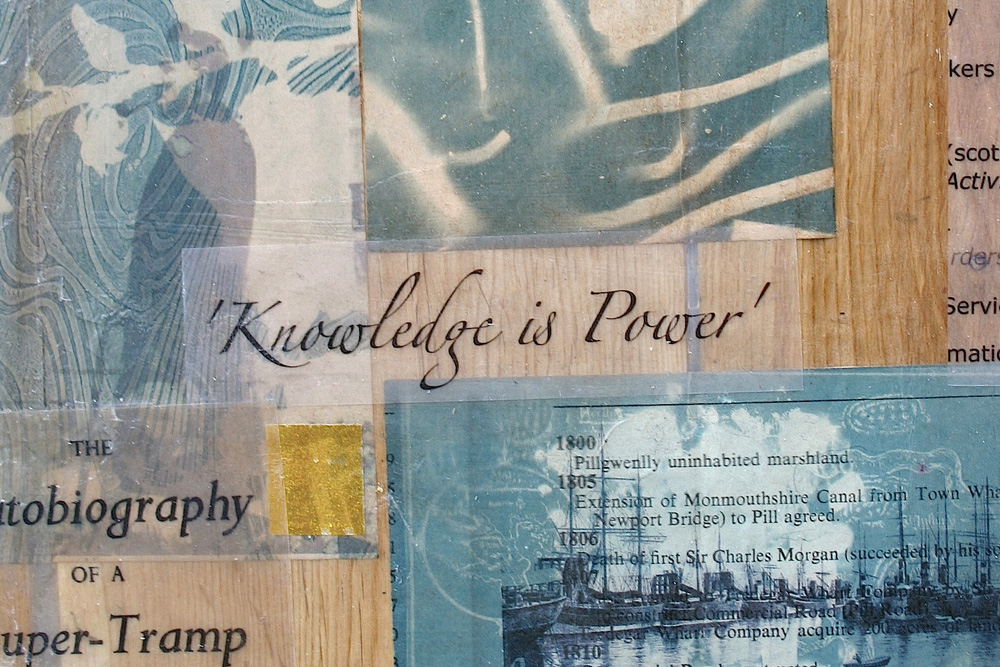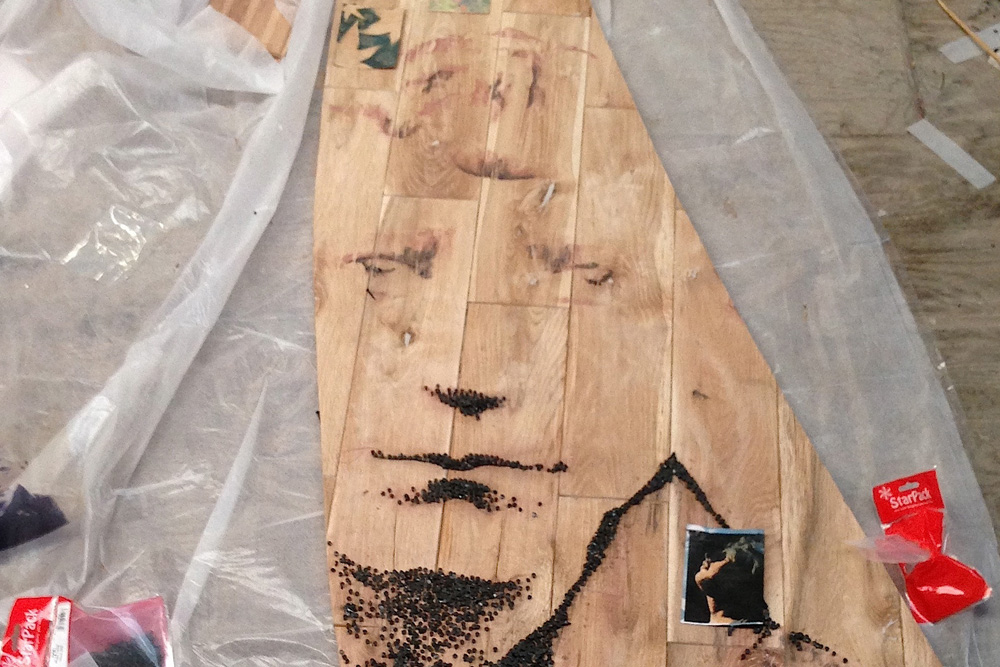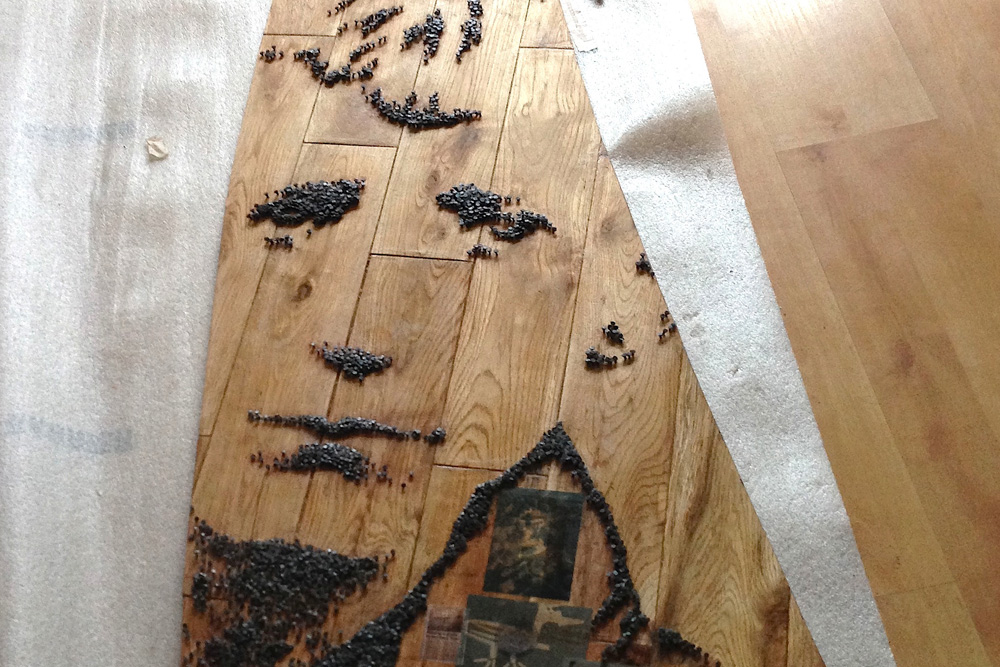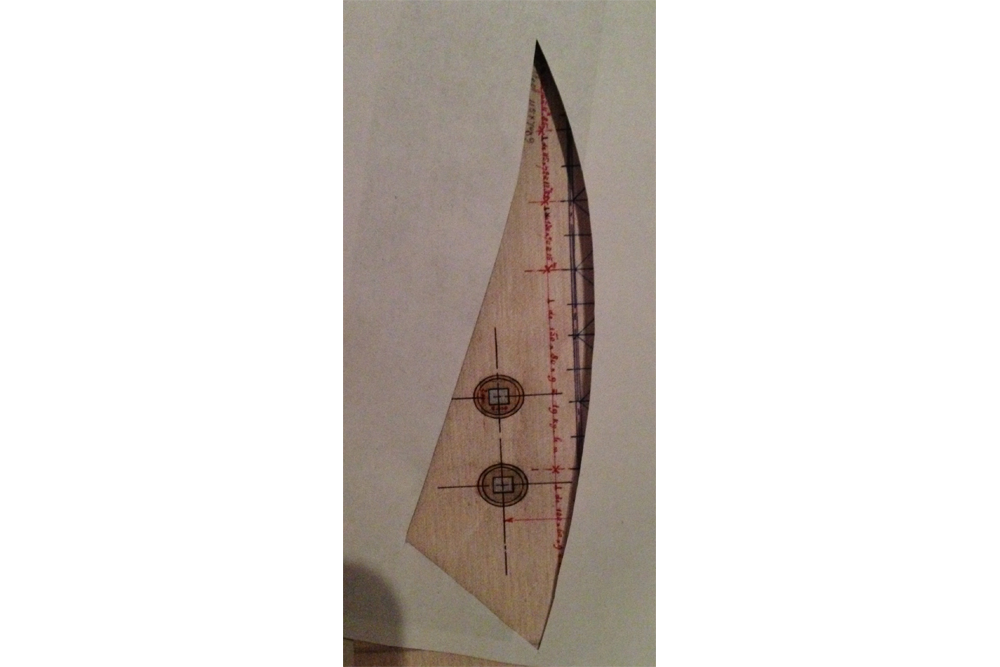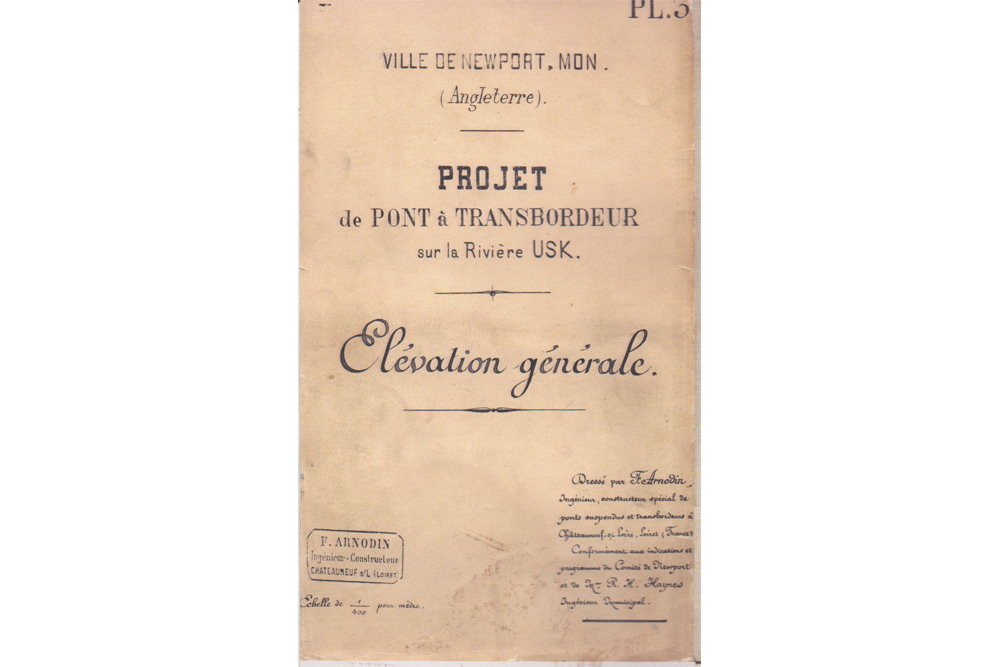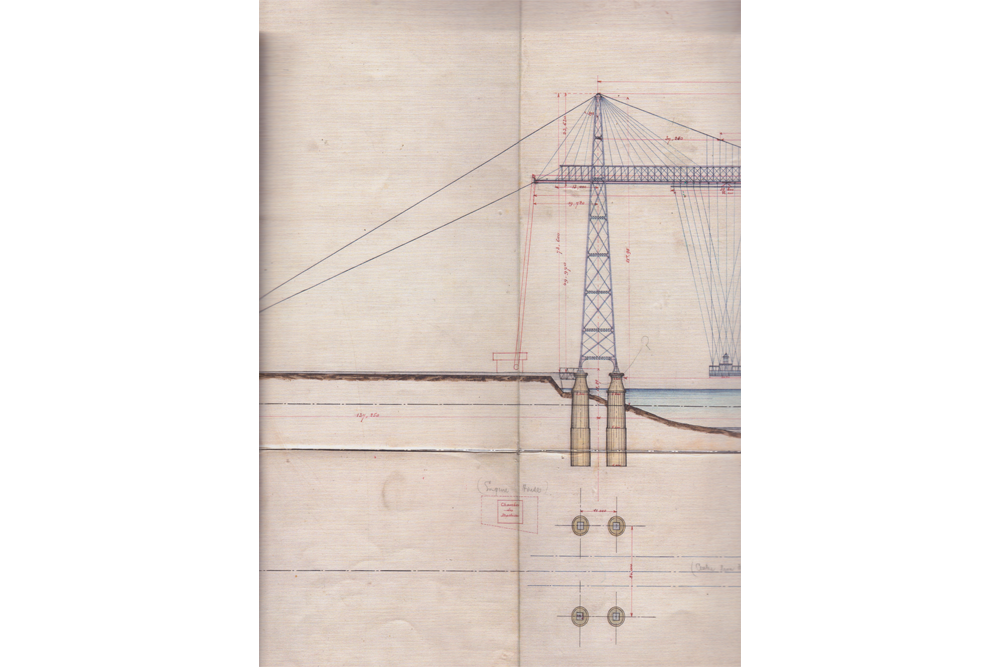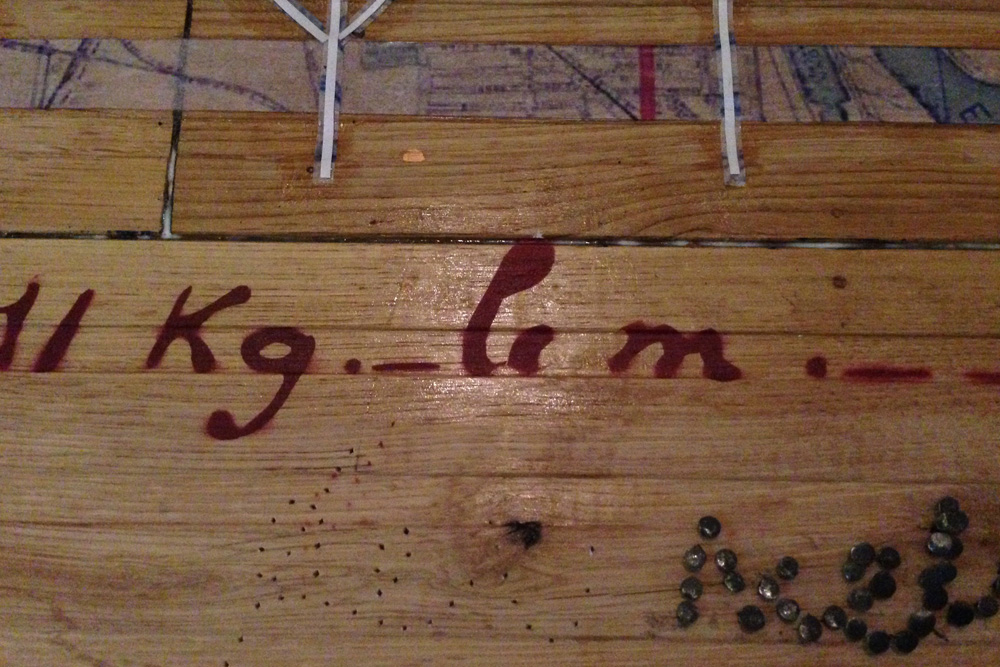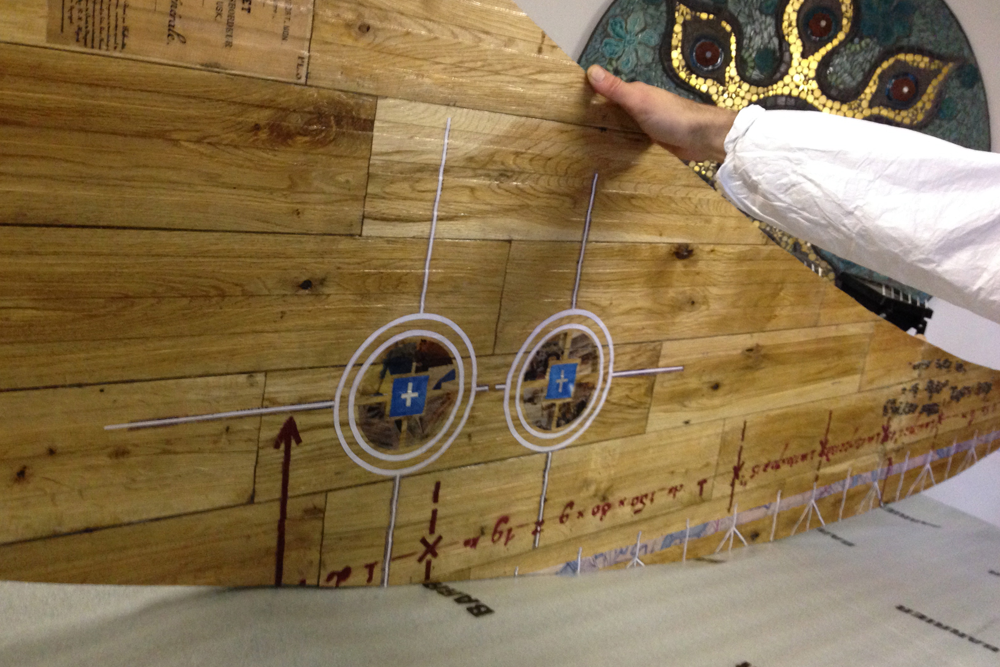 4.'An Industrial Revolution' Tom Toya Lewis leads the vision of the industrial revolution. A young lad hailed for his bravery in the tragic docks disaster in the late 19th Century. He became a hero for rescuing a man from deep within fallen timbers. Collaborating with local industries enabled me to collect and utilise raw materials and waste products within the artwork. Cyanotypes and community engagement enabled me to explore the materials and use them to create images to be used in the artwork. Overlayed images of local historical figures, emblems, quotes and historical dates allowed the imagery to tell multi layered stories. Tom Toya's facial features hightlighted the importance of steel constructed from hundreds of steel nails.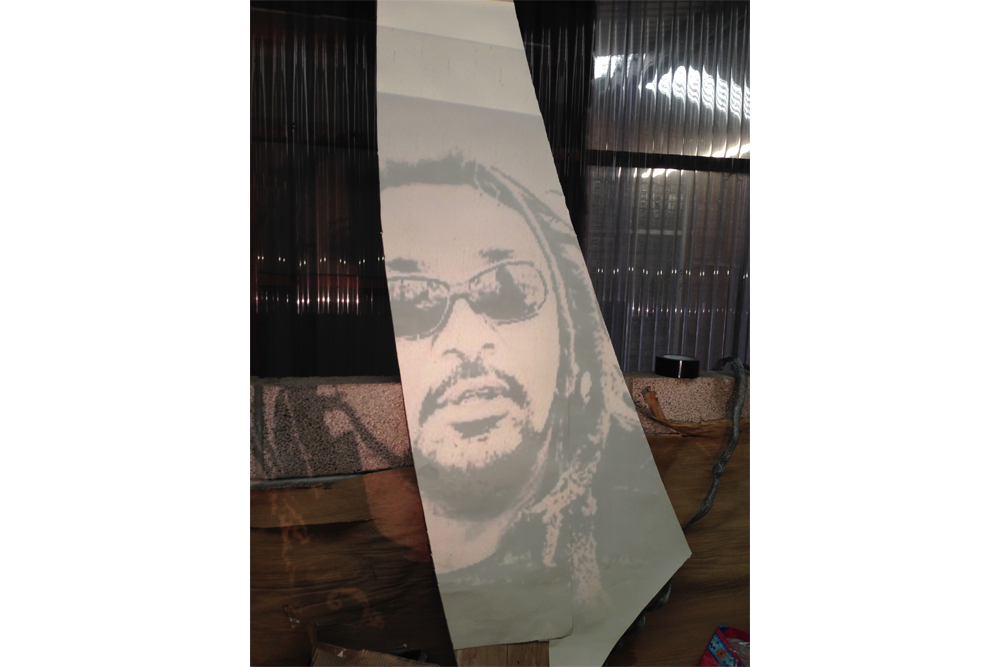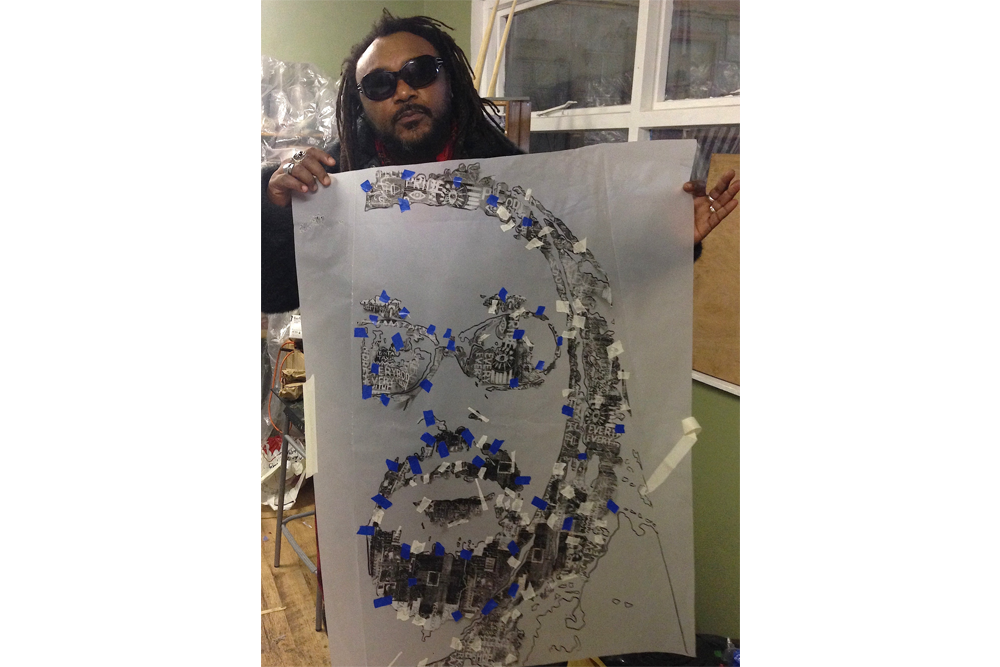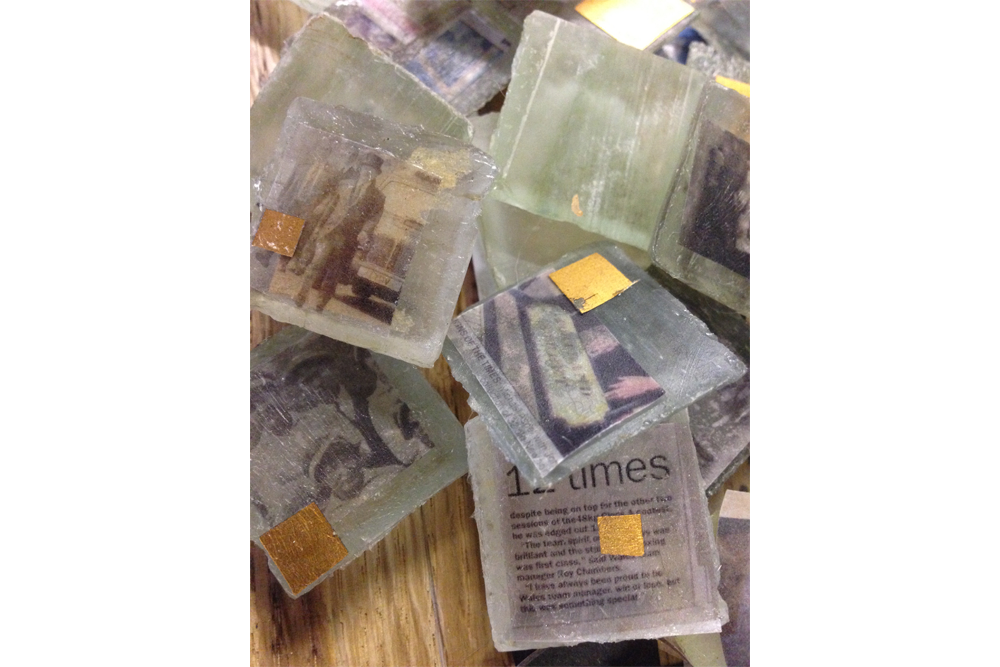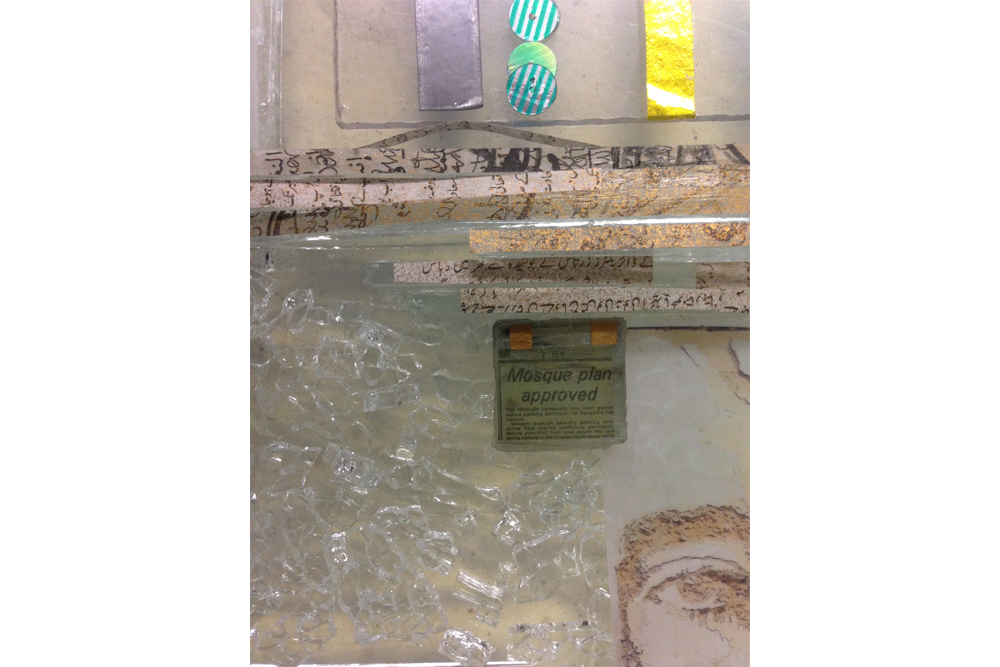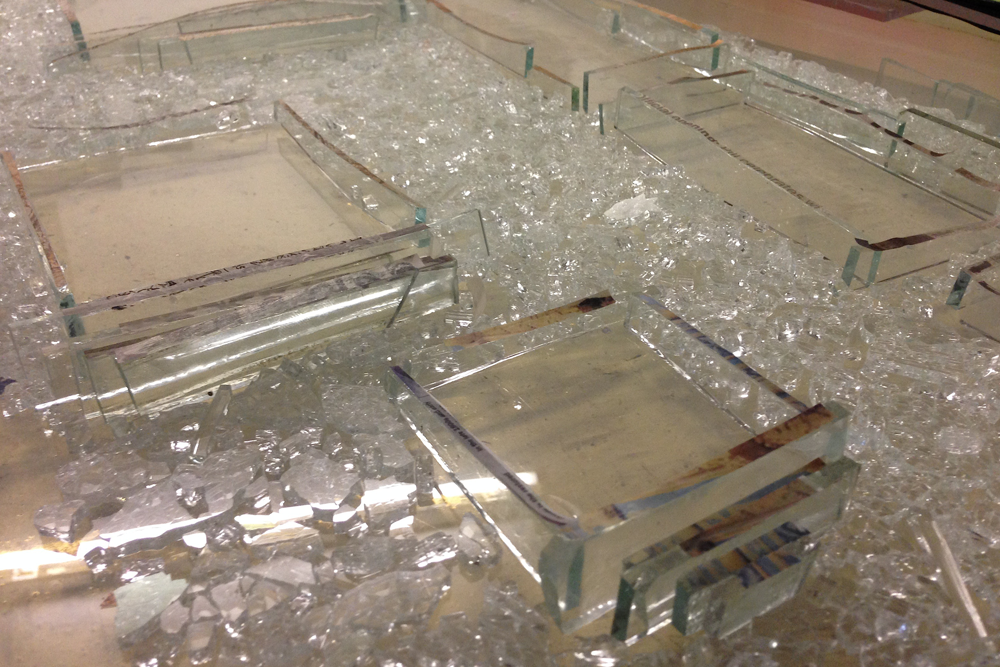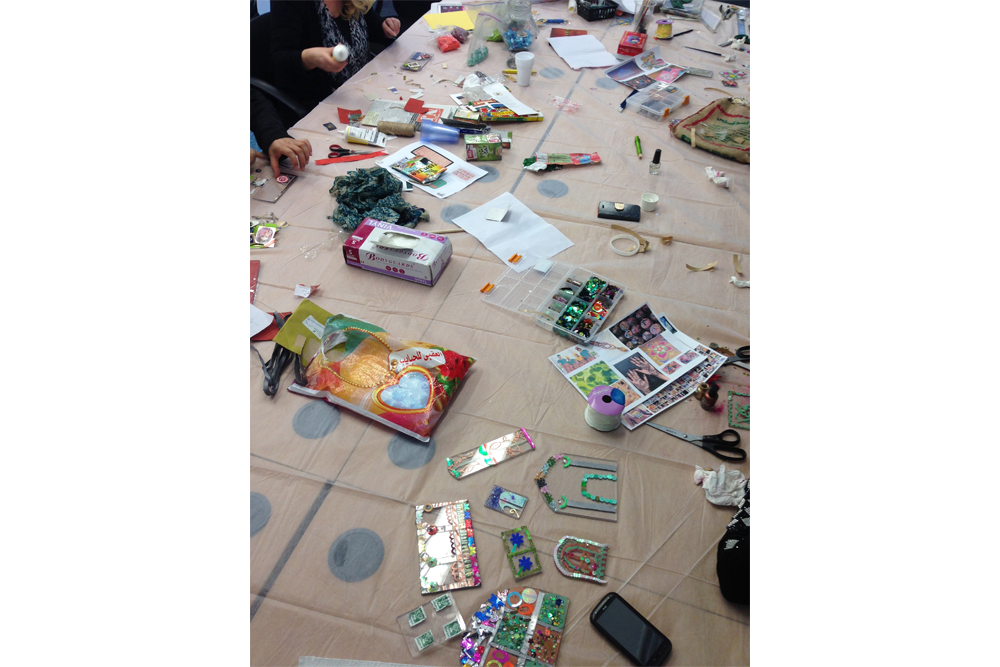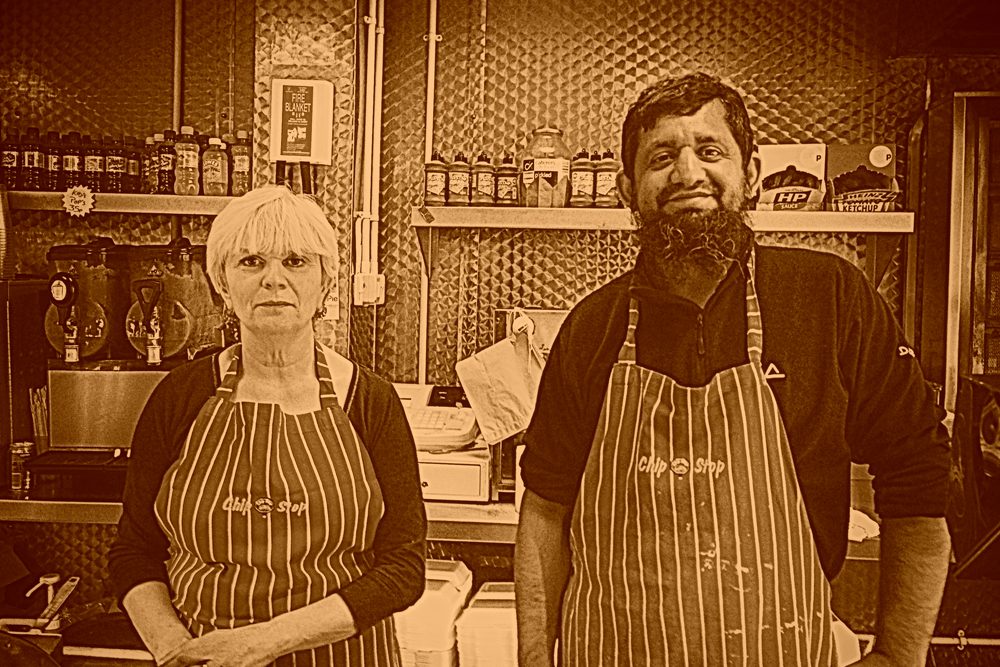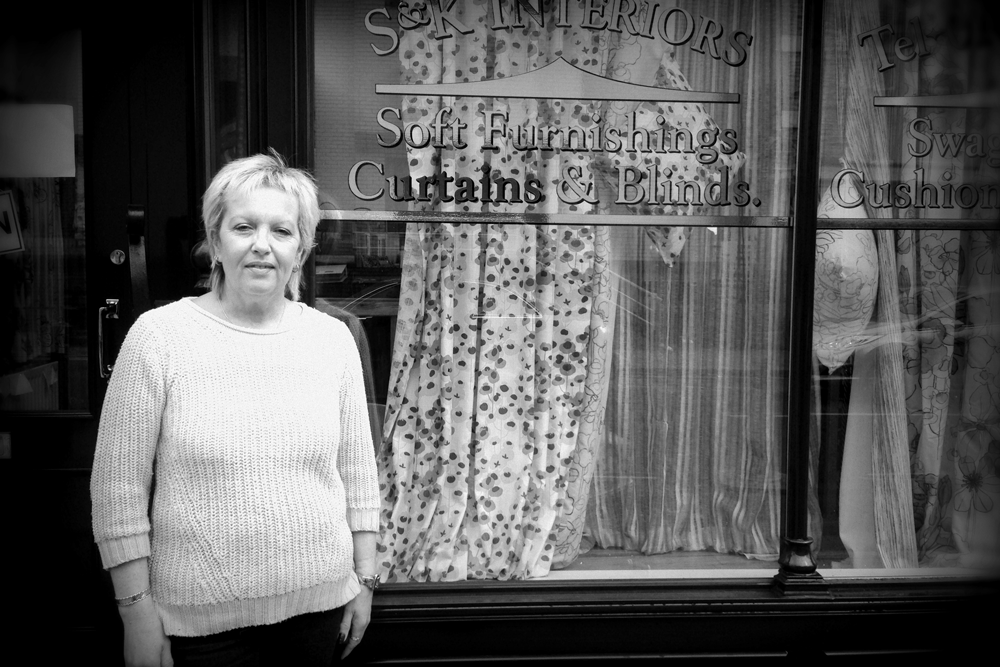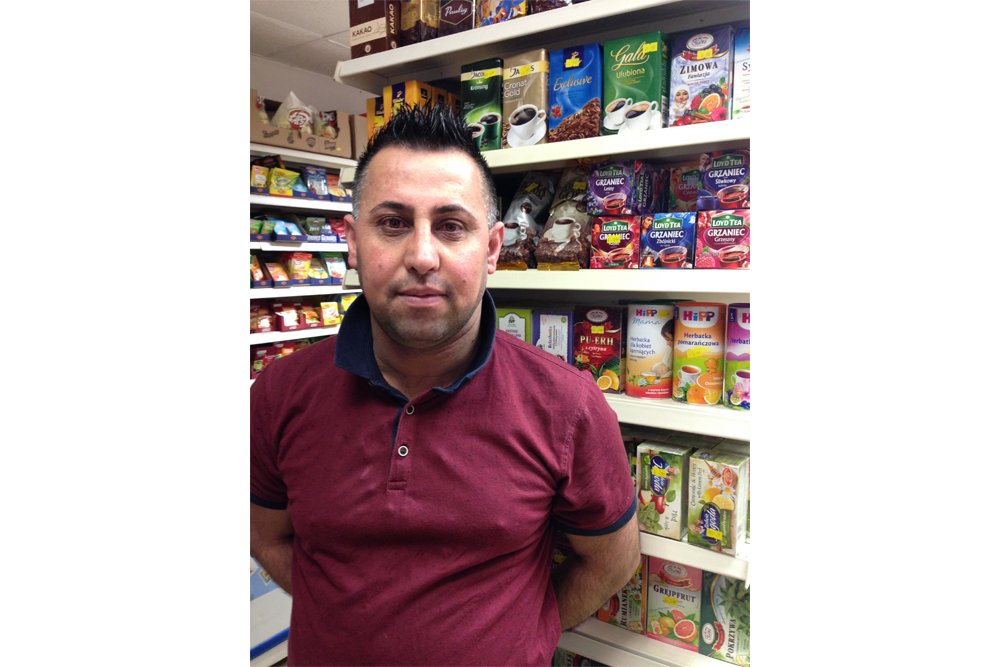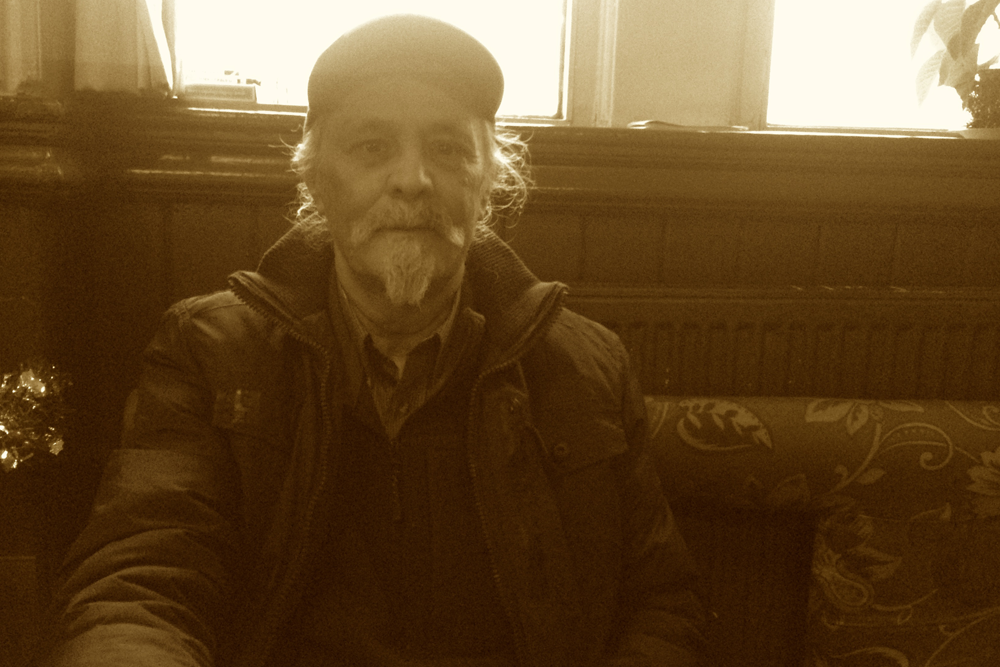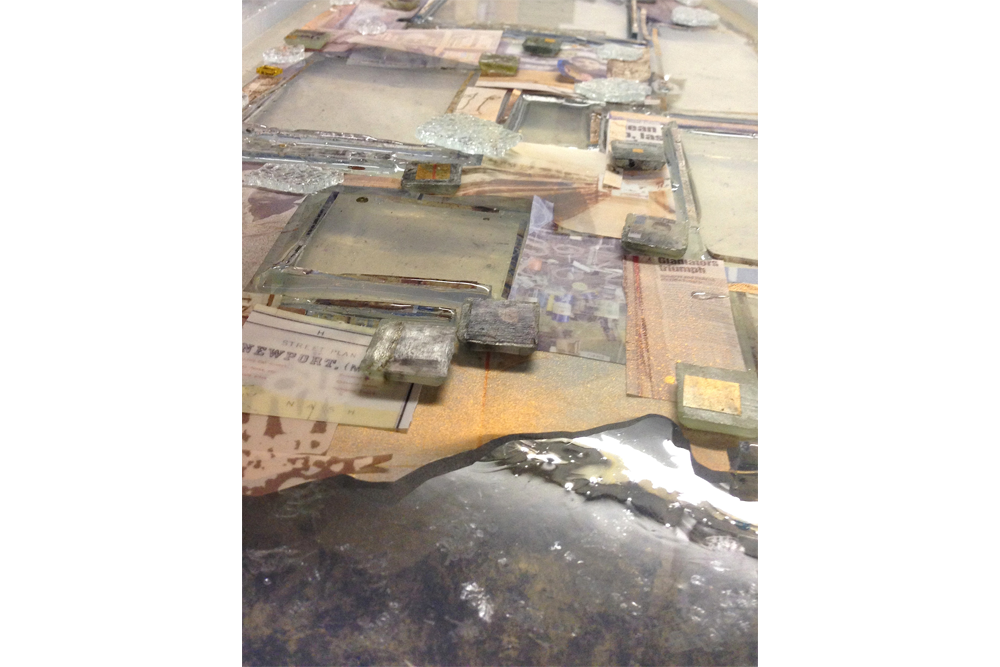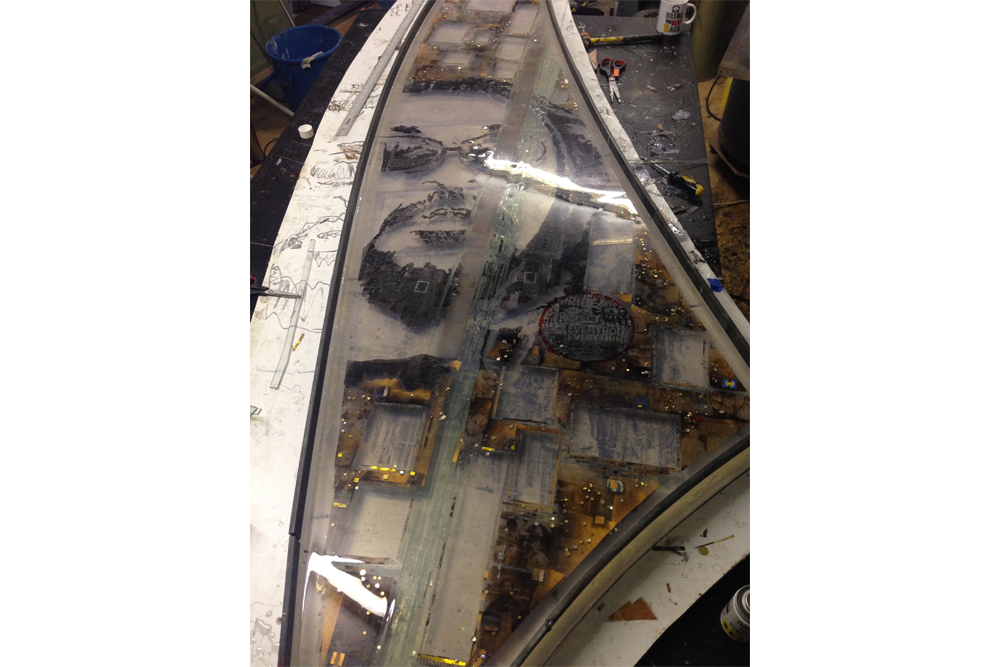 5. 'The Face of Pill'. Benji Webbe a Pill resident and musician was chosen to represent Pill today. A 'day in the life of' approach to Pill's contemporary society. Sub commissioned drawings from Marega Palser brought draw images and collect words inspired by a walk through Pill, encapsulating culture, language, architecture and portraits that formed the detail of Benji's face. Local stories from past and present were layered into the sail and surrounded empty windows that depict the many cultural lifestyles of the area. A series of portraits of shop keepers were taken as I walked the length of Pill and used to form the background texture to the artwork.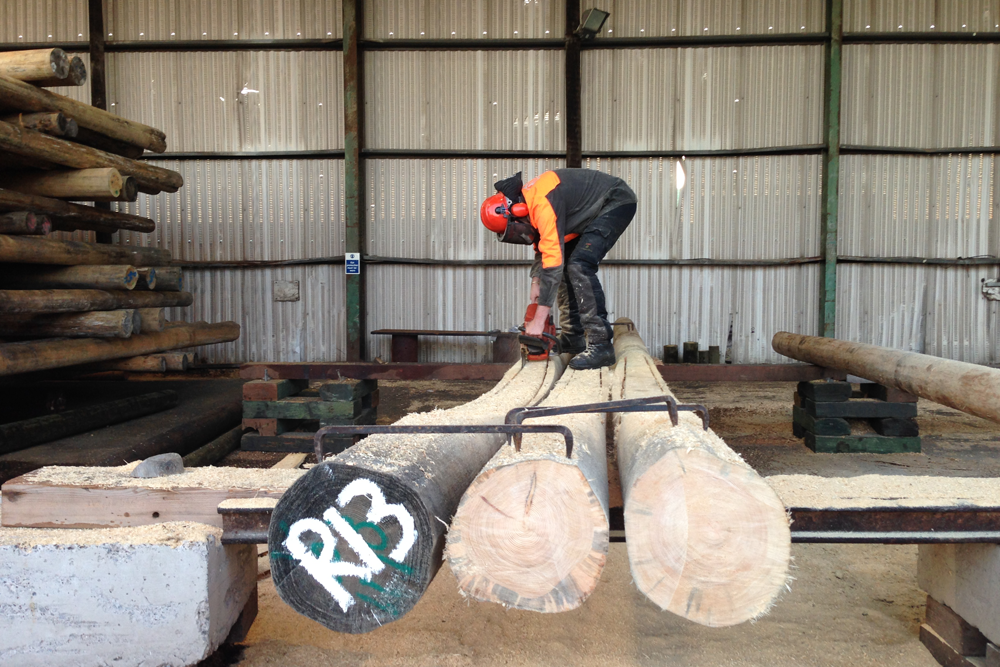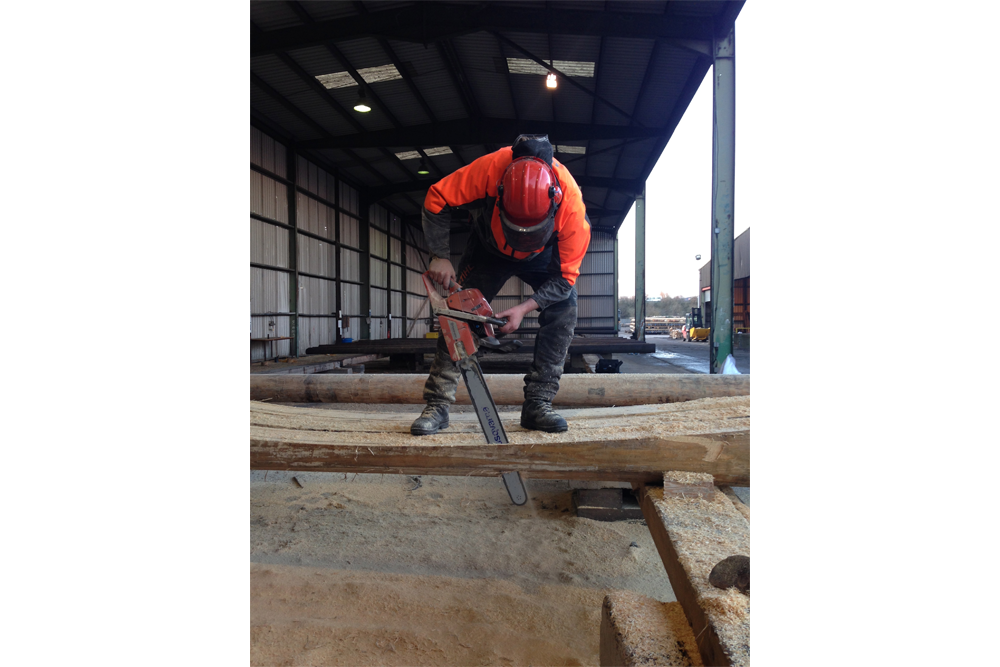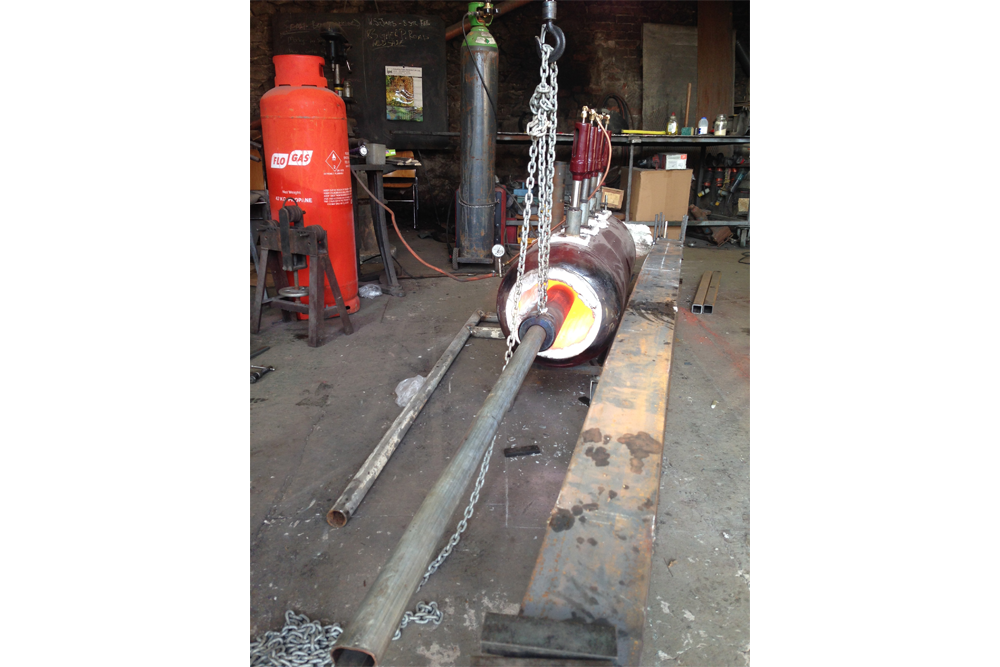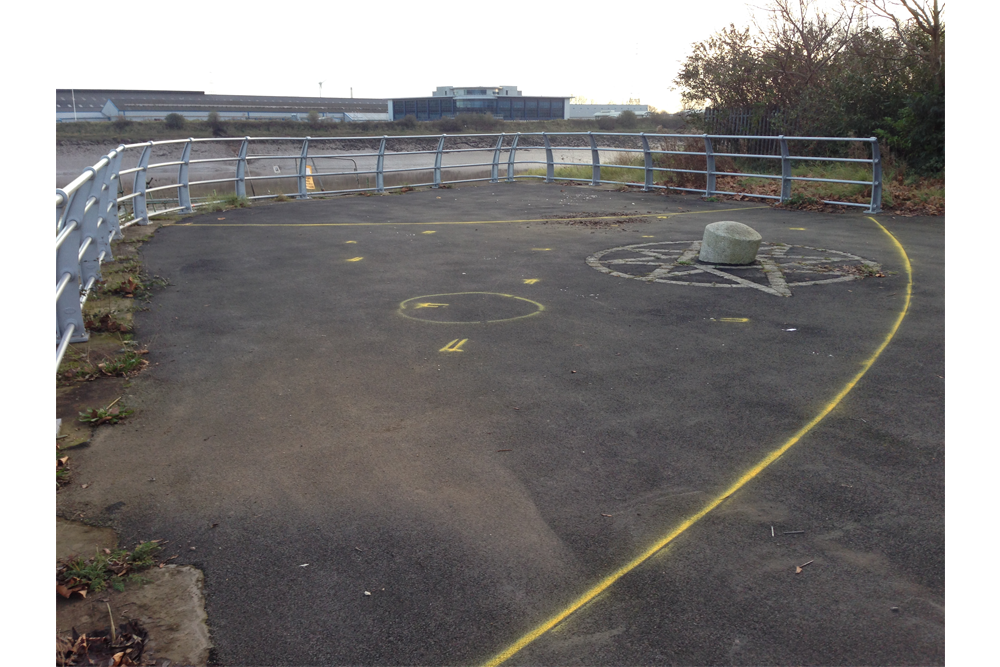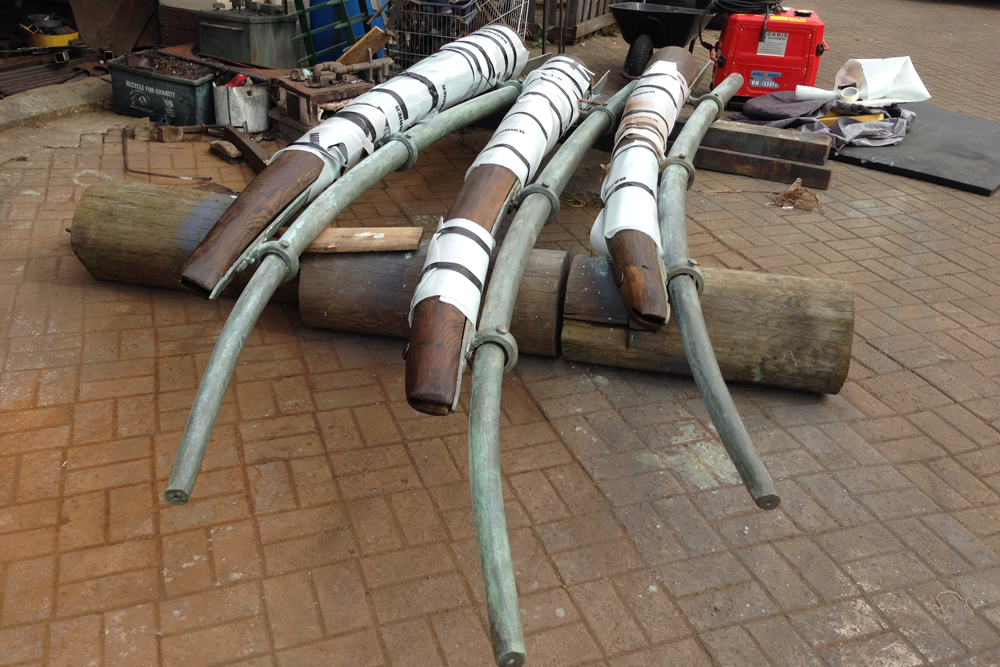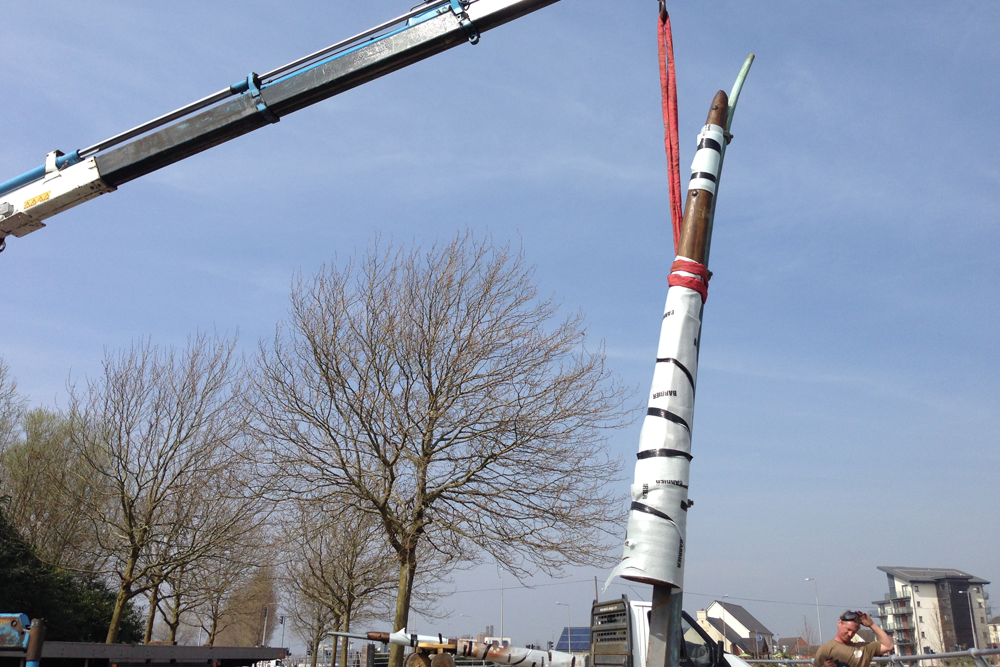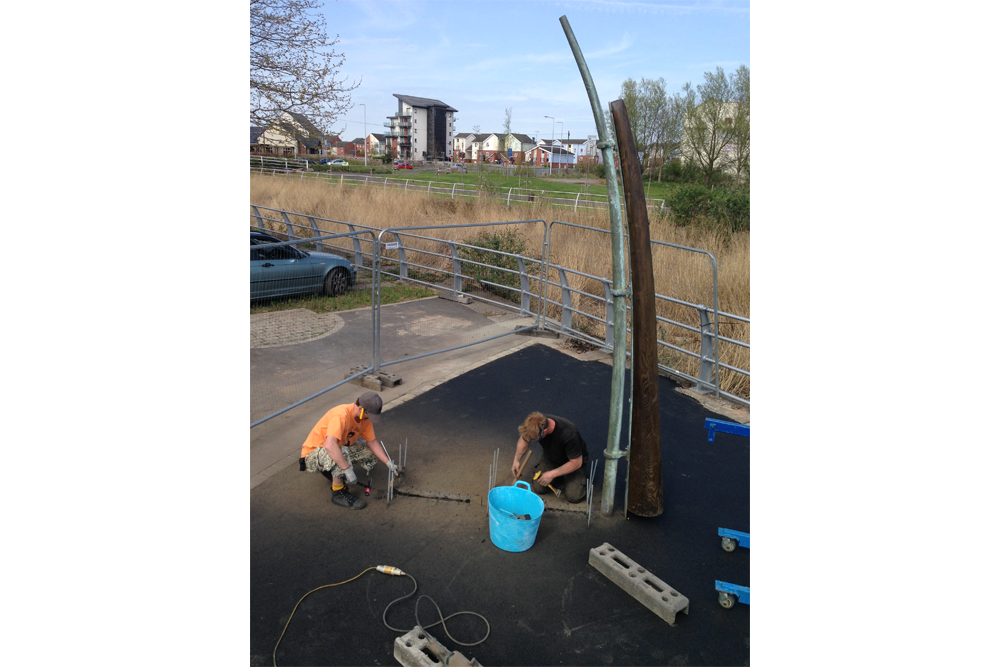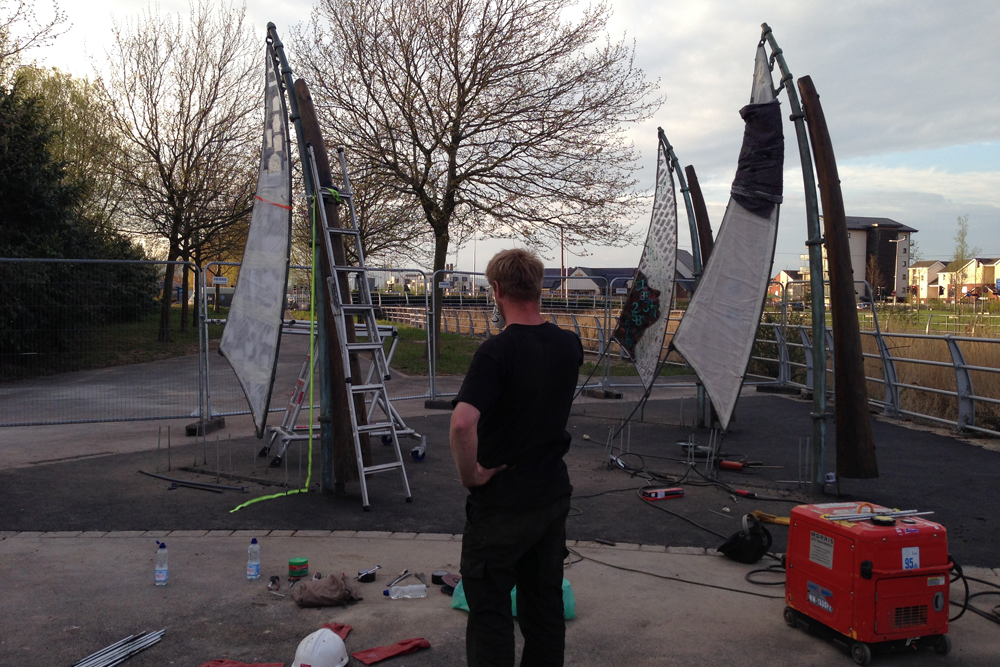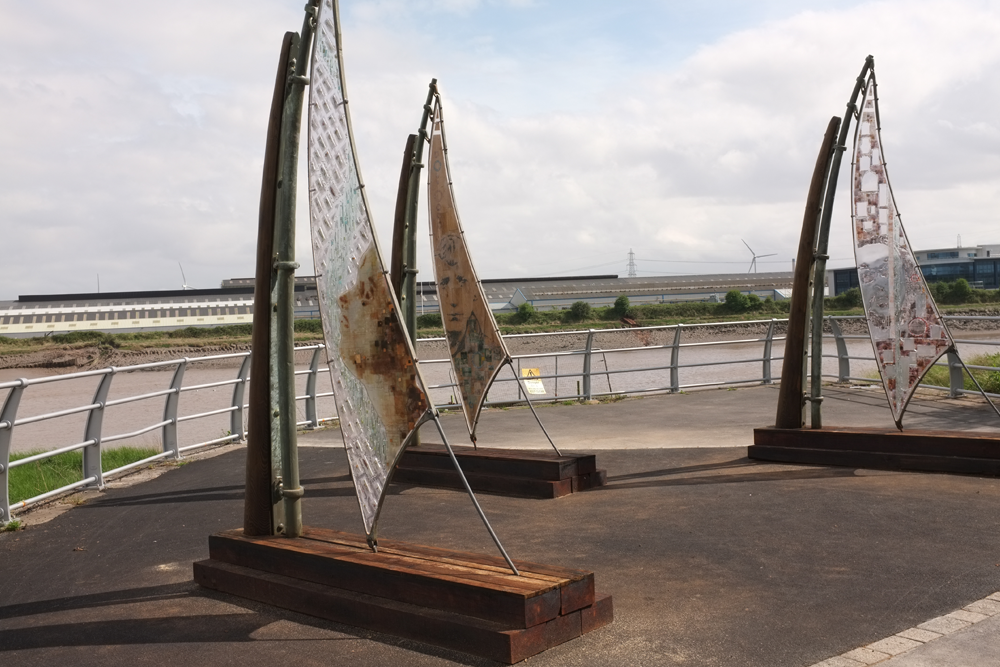 6. Sub commissioned local chainsaw artist Chris Wood, fashioned three robust masts from telegraph poles, donated by Burt Boulton and Haywood Ltd, a local business, were skilfully chainsawed into gentle four meter curves. While blacksmith, collaboration partner Nick Jones, forged the steel rigging from four meter turned, tapered steel poles and intricate fittings and fixtures, creating dramatic marriage of steel and wood that hang the sails.
Working closely with Newport Council's Street Scene team the site was marked and installation of the intricate steel footings and masts could begin. The art work was carefully lowered and welded in place revealing the dramatic impact of the commissioned installation. Tarmac and plinths and finished the overall site transformation.
View the "With Passing Ships" Gallery Here.
Further reading
Historically, the Pillgwenlly area of Newport was a thriving neighbourhood, housed many of the dock-workers and their families at the start of the 20th century. Newport owes much of its growth to the dock industry and Pill was central to this and the wider development and growth of Newport as a whole. As Newport's docks expanded during the first quarter of the 20th century, Pill witnessed rapid growth, expanding northwards towards the centre of the city. Due to the investment and confidence in the area, Pill's buildings reflect the wealth and status of the area but the decline of heavy industry in South Wales and the subsequent decline in dockland activity, Pill has undergone a marked change. Today, Pill is among the most deprived wards in Wales. NCC